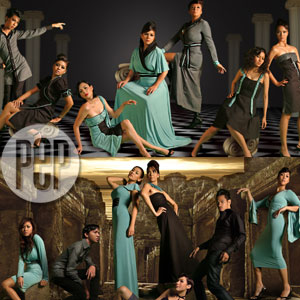 IMAGE 0
---
Kat Sy, young designer and entrepreneur, knows fashion for the independent woman. Being one herself, she knows what fashion entails for a busy lifestyle.
Sy-Kat is all about being structured with simple cuts and keeping true to the urban style with a fine touch of feminity. "Kat loves playing with her fabrics and takes a bold feat with edginess. That's why I'm comfortable wearing her clothes," TV host-actress Cheska Garcia commented.
She added, "I'm an independent woman and I like both comfort and style with what I wear."
For someone with a multiple lifestyle like speed racer Gabby dela Merced, Sy-Kat Couture gives her more options with style. "Kat's designs have endured through time, not just because she's a businesswoman but because she's also creatively experimental," she said.
Even anchorwoman and working mom Cheri Mercado affirmed, "I'm open with new designs and Sy-Kat Couture has a fresh approach to that. But I'm more inclined to the classic pieces with simple cuts. And Sy-Kat has both."
Sy-Kat will be launching its men's line this April. Any fashionably inclined and urban go-getter male will surely feel at ease with the designs Sy-Kat offers—ranging from the busy corporate yuppie, the urban clubber, to the dressier night charmer.
An urban outfitter since 2005, Kat Sy is now slowly inching her way to showbizlandia. Before we know it, celebrities would soon be wearing Sy-Kat. "You have to be very patient and very consistent with what you do best. And for me that's fashion. It's where I put my best effort. Everyone has a passion. This is mine," she proudly said.
ADVERTISEMENT - CONTINUE READING BELOW
Sy-Kat Couture is located at GF Dona Consolacion bldg. 122 Jupiter St. Makati, or call 02-8904280 / email at sy_kat_couture@yahoo.com for more inquiries.