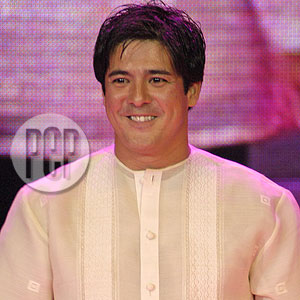 IMAGE 0
---
We usually think of artistas as people beyond the ordinary. We see them most of the time on screen or splashed on the glossy pages of various magazines—surreal, unreachable, almost perfect!
While it's true that celebrities do enjoy the perks of fame, not to mention the kind of life most of us can only dream of, these people are still very much like us. In short, they are also humans.
In celebration of Father's Day, PEP (Philippine Entertainment Portal) reveals its list of top showbiz fathers. We asked the SOP stars, the show's guest-musicians, and other celebrities to name their favorite showbiz dads— check out their answers.
DOLPHY. Rodolfo Quizon, more known by his screen persona, Dolphy, is well-loved because he embodies two traits that are so prevalent in Filipino culture—humor, despite the hardships, and that sense of bigoted machismo.
But then again, if there's anyone who could get away with both, it's none other than the King of Comedy himself.
One glance at Dolphy and you can't help but feel that the 74-year-old former stage actor is everything what we expect a father should be.
"Mahilig talaga ko sa bata," he once said during an interview.
Growing up with nothing and having to work his way up, Dolphy—now that he's truly stable—admitted spoiling his children rotten, to the point he doesn't know how and when to say no to them.
"Pero kaya ko nga sinulit 'yung mga araw na maliliit pa sila at binibigay ko talaga lahat ng hilig nila kasi alam ko darating din naman 'yung araw na hindi ko na sila ganong makakasama dahil may kanya-kanya na silang buhay," he confides to this writer over a plate of pizza.
ADVERTISEMENT - CONTINUE READING BELOW
By now, of course, all, if not most of his 18 children, are already grown-ups.
"Ganun na nga, hindi ko na sila nakakasama ngayon kaya nami-miss ko din minsan 'yung nilalabas ko sila," he tenderly muses.
His sons in showbiz—Eric, Epi and Vandolph—have somehow made a name for themselves in the industry and all are currently busy with their own personal affairs.
During the time of the interview, the news of Vandolph's engagement with girlfriend Jenny Fernandez, was still a few months away.
"Si Vandolph may sarili ng bahay," proudly states Dolphy. "P'wede na nga siyang mag-asawa at tingin ko naman 'eto na 'yung makakatuluyan n'ya."
When asked to rate himself as a father, the legendary comedian declined to answer.
"Mga anak ko na ang bahalang magbigay ng grade sa 'kin," he pensively reacts. "Basta sana lang naiparamdam ko sa kanila ang pagmamahal ko bilang ama... 'yon lang naman ang gusto kong maiwan at maalala nila 'pag dating ng araw," he ends meaningfully.

RICHARD GOMEZ. He's the Adonis of Philippine cinema, a multi-awarded actor, a competitve athlete, but the description he likes most is—Juliana's dad.
Showbiz insiders close to Goma often refer to him as a loving husband to wife Lucy Torres and to daughter Juliana.
Lucy Torres, in a past interview with a major broadsheet, said that perhaps marriage gave Richard's life a normalcy and a family which he never really experienced during his formative years.
"I brought him a family. I'm very close to my parents, while he only grew up with only his paternal grandmother," shared Lucy.
ADVERTISEMENT - CONTINUE READING BELOW
"It's not unusual for Richard and Juliana to go biking inside the house, in the living room. There are a lot of open spaces in our minimalist house," she said when we asked how Richard usually bonds with Juliana.
"Pillow fights, tumbling, running, rollerblading... tough activities," she further added with a laugh.
Juliana, according to Lucy, inherited her father's trait of being impatient. But she also got Richard's sweet nature.
"She always leaves us little notes and drawings even if there's no occasion," shared Lucy.
So, that's very Richard? "Yes," replied Lucy.
"He is romantic, but in an unconventional way. He's the type who'll give flowers for no reason at all. Once, he gave me flowers that I knew didn't come from a flower shop. It looked as if he just plucked them from a garden. Wild flowers, yellow mums. At that point [in our courtship], though, he could've given me calachuchi and I would've been so happy!
Richard is very sweet when he really gets around to it. He writes me long letters. He's the one who started calling me 'honey.'"
AGA MUHLACH. The Ulirang Ama award he received in 2006 was testament enough to his dedication as a father.
"I'm overwhelmed," Aga Muhlach—who never left his wife Charlene Gonzalez while she was in the delivery room—said last year when he received the said recognition.
"This is one recognition that we fathers should all aim for. I thank my children for this achievement," the former matinee idol added.
ADVERTISEMENT - CONTINUE READING BELOW
It is common knowledge in show business that Aga's decision to slow down on his career was brought about by that desire for domestic tranquility.
He is a hands-on dad to his equally good-looking twins, Atasha and Andres.
"I helped Charlene in changing their diapers and I would even wake up in the middle of the night para lang samahan si Charlene while she breastfeeds them," he recounted.
The couple also make sure not to leave the children's bedside when they're sick. "Even now that they're big, we make sure that we are the first persons they see when they wake up. And when they go to bed, one of us makes sure that they have made the sign of the cross."
Incidentally, Aga has a son with actress Janice de Belen, Angelo Luigi nicknamed Igi Boy. Aga and Janice opted not to get married.
"Janice and I were very young when we had Luigi so I never really experienced being a real daddy, so ngayon ko pa lang talaga nai-enjoy and natututunan 'yong role. I've always been afraid na baka hindi ko magawa 'yung responsibility..." said Aga.
FRANCIS MAGALONA. To say Francis Magalona is a cool dad is an understatement.
First of all, he looks what his music suggests. Not that he's into baggy pants while clad in an oversized basketball jersey with heavy shiny bling-bling's to boot.
Magalona whose music leans on rap, rock, pop, and funk does emit a young and vibrant demeanor. The guy just doesn't seem to grow old.
ADVERTISEMENT - CONTINUE READING BELOW
He has eight children—Unnah Sarah, Nicolo, Maxene, Frank, Saab, Elmo, Arkin and Clara—with wife Pia Arroyo.
Daughter Maxene, who is also into show business, once said that the great thing about having a big family is that there are no dull moments. It's also a good thing that their father is just like their barkada.
Aside from music, Francis is into photography and directing. He is also part of Eat Bulaga, besides collaborating with other artists for various projects.
"But my family, of course, is number one in my priority list," Francis told a reporter in an old interview.
That's how it is till now.
"He plays with us, particularly video games, and he appreciates our kind of music and basically we could talk to him about anything," relayed Maxene.
Photography, music, Playstation and everything hip.
As a father and husband, that's simply way too cool to overlook.
CESAR MONTANO. Now that the close-to-final election results are out, actor Cesar Montano is looking forward to being with his family more frequently. "Wala talaga kong oras 'nung nakaraang campaign period kaya ngayon gusto kong bumawi sa wife ko and sa mga bata," he said when ABS CBN visited the senatorial candidate at home.
Cesar unfortunately lost his senate bid though he already expressed his utmost desire to run in the next election, this time for a local government position.
He admitted missing his two kids, Angeline Isabelle and Samantha Angeline, and wife, actress Sunshine Cruz.
Friends describe Cesar as a doting father who loves to play and watch TV with his kids during their spare time.
ADVERTISEMENT - CONTINUE READING BELOW
It is no secret that Cesar has children, Angela and Angelo, with his late first wife.
"Angela and Angelo stayed with their mother when we separated. Then when their mother died of a brain tumor in 1993, kinuha ko sila to be with me," he narrated before.
His other son, Caloy Diego, with actress Teresa Loyzaga, lives with his mother who is now based in Australia.
Cesar was always honest enough to admit during interviews that he has his share of shortcomings as a father.
"But it doesn't stop me to always improve myself for the sake of my children," he often says.
That's all good. After all, it's how you finish the game that truly matters.