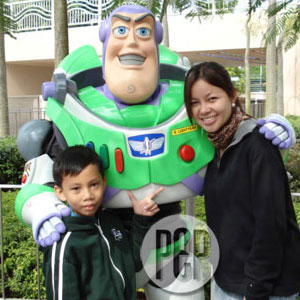 IMAGE 0
---
Bossa Nova sensation, Sitti Navarro, recently took a break from her punishing work schedule, and headed for Hong Kong with her mom and kid brother on a much deserved short vacation.
Sitti, who is Sitti Katrina Navarro Baiddin in real life, is of course credited for helping break the perceived elite bossa nova music to a wide market of unsuspecting local ears.
Aside from performing, the soft-spoken Sitti is also busy co-hosting Pinoy Big Brother: Si Kuya, KaBarkada Mo on Studio 23 with sexy actress, Asia Agcaoili.
Sitti and her family visited Hong Kong's biggest attraction—Disneyland. These pictures, courtesy of her manager, Gary Trinidad, showed the lovely singer just letting her hair down and having a great time.
Though she frequently travels to do out of town shows, Sitti revealed that she seldom really enjoys the places due to time and schedule constraints.
But there were some places in our country that she was lucky enough to explore.
"I love Cagayan Valley, especially its rock formations," she confides when asked about her favorite local destination.
But topping her list is Panglao Island in Bohol province. "I've been to Boracay a couple of times, but Bohol pa rin," she affirms with a smile.
Her dream destination outside the country is a no-brainer.
"Rio Janeiro, Brazil!" she yelps enthusiastically before justifying her choice, which, given her kind of music, of course, isn't hard to comprehend: "I want to enjoy the samba!"