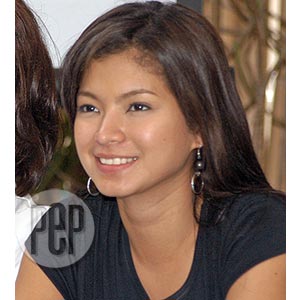 IMAGE 0
---

Something excites Angel Locsin nowadays. And it has nothing to do with Marvin Agustin.
Opening the doors of her new P16 million two-storey house, Angel gave GMA-7's Lhar Santiago a tour, giving the public as well a glimpse of the fruit of her labors.
The vast property that can be described as Mediterranean in style, has six rooms, a spacious two-car garage, and other modern features.
Angel—undoubtedly one of the most bankable young stars today—also has a small office where her budding interest in the business side of entertainment can grow and perhaps bear more fruit. Her movie Angels isher first venture into the world of film production.
All she ever wanted was a comfy "bahay kubo" to call her own, Angel said. What she got instead was a sprawling home, five times bigger than the modest house she originally had in mind. The high ceiling enhances its spaciousness but more than anything, Angel explained, she prefers it for good ventilation, making the house more conducive for relaxation.
Although a self-confessed natural homebody, Angel confides that having her own house makes her want to stay indoors even more and spend quality time with her family which, of course, is a rarity given her tight schedule.
The house is still bare and filling it up could be a gradual process, says Angel.
So perhaps, magazines lining up to do a house feature will have to wait awhile.