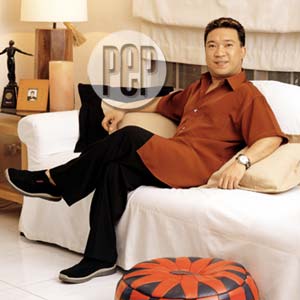 IMAGE 0
---
Roderick "Kuya Dick" Paulate is one likable star. Hangingaround his dressing room at ABS-CBN's defunct afternoon show "Magandang Tanghali, Bayan" (MTB) cantell you that. People simply come in and out of his tiny space. Practicallyeveryone is welcome.
From the writer who enters to brief him about the questionsfor the day's "Winner Take All" game portion, to Claudine Barretto who pays him a short visit to say "hi!"because she happened to be nearby taping for Boy Abunda's "PrivateConversations." From the barong-clad ABS-CBN utility man who quietly hands hima slip of paper with names of friends he would like Kuya Dick to greet on air,to a fan who gives him a simple purple leather necklace, which he quicklywears, saying it complements his pink polo shirt. From a TV crew that wants himon-cam speaking about his close friend, director Olivia Lamasan, to co-host AmyPerez and TV directors Arnel Natividad and Edgar "Bobot" Mortiz who drop injust to chat.
ADVERTISEMENT - CONTINUE READING BELOW
Obviously, Roderick is an easy fellow to approach.
So easy that at one time he was sent an S-O-S message fromthe "MTB" staff to come and host, fast! The show was in panic mode: airing in afew minutes, it had no host in sight! Roderick, then taping an episode of "DaPilya and Da Pilot" at the new ABS-CBN building, and scheduled to appear in theshow at a later call time, came huffing and puffing to the "MTB" studio. Thatwas a good five-minute sprint! He was still in the other show's costume ofmaong shorts and striped shirt. When he got there, co-host Randy Santiago hadarrived; Roderick let out a sigh of relief.
The point is: how many stars can you S-O-S like that?
Those who know him say he's more than just professional andcooperative, he is downright kindhearted.
Roderick himself will admit: "Gusto ko laging may love sapuso ko. Sa 'MTB' nga, binabanggit ko, 'O, mag-I love you tayo kahit sino paang kaharap mo!' So, ina-I love you ko 'yung contestant, ke babae, ke lalaki.Ina-I love you ko 'yung waiter..."
ADVERTISEMENT - CONTINUE READING BELOW
He doesn't mind saying he's this way because there's so muchlove to go around in his family. "Natutuhan ko sa pamilya ko," is how he putsit. He is the youngest among nine children—even if everyone in showbiz callshim Kuya Dick. It is a brood, moreover, that feels very close to their mother,Paz, a woman Roderick openly announces his love for in public.
"We, my siblings and I, love her so much," he says. "She'sour queen. Ganoon namin siya kamahal."
At a very young four, Roderick began acting for the movies.But it was years later, with his gay roles, that he would click with themasses.
To this, Roderick demurs: "Kasi 'yung gay naman nag-start'yon late Eighties. Mas marami 'yung hindi ako gay dahil ang mga gay roles koilan lang compared sa mga movies na ginawa ko."
As far as he can recall, his first gay outing was in thecritically acclaimed High School Circa '65. "Doon naman, I was nominated forBest Supporting Actor considering na 15 or 16 pa lang ako noon. I was the comicrelief of the movie."
ADVERTISEMENT - CONTINUE READING BELOW
Bibeth Orteza, who played a teacher in High School Circa'65, created a gay character for him in the sitcom "Tepok Bunot." "Nag-hit'yon," says Roderick. Then a producer gave him the lead role in Charot, a movieinspired by Dustin Hoffman's gender-bending performance in Tootsie. BeforeRoderick knew it, other offers to do gay roles started coming his way, with oneof them from a very persuasive line producer-actress.
"After Charot, ayoko munang tanggapin ang mga gay-gayroles," he says. "But it was Charo Santos who convinced me to do a gay moviewhere I would be paired with Maricel (Soriano)." The project was Regal Films'Inday, Inday sa Balitaw which ended up being a huge success.
"The rest is history!" Roderick exclaims. "'Yun na!Sunud-sunud na sa box-office."
Roderick, the gay comic, became so hot that, in 1987, hemade four gay movies in a span of eight months: Jack En Poy, Bb. Tsuperman,Kumander Gringa, and 1+1=12+1.
ADVERTISEMENT - CONTINUE READING BELOW
It was Comedy King Dolphy, Roderick's mentor in the sitcom"John En Marsha," who had encouraged him to concentrate on comedy. "Si Dad [hisname for Dolphy], sabi niya, dapat mag-comedy ka kasi kulang na ang mgakomedyante, 'yung star-material na komedyante." Robert Arevalo, his seniorco-star in the soap opera "Anna Liza," urged him to do the same. "Sinasabi niyana natatawa siya sa akin. Gusto rin niyang mag-comedy ako," says Roderick.
However, he admits that, initially, his interest waselsewhere. He was once host—and director for the documentary portion—of the youth-oriented public affairs program"KB Kaibigan" on the government-owned Channel 4. He says, "Ini-interview kopolitical people." And for co-hosts, he had former undersecretary of tourismRam Antonio and Jackie Kookoorichkin. "Ako 'yung medyo matigas kasi 'yung isataga-La Salle, 'yung isa taga-Assumption. Ako 'yung taga-UP."
He goes on: "Para makita mo 'yung conflict... I wanted to dopublic affairs hosting but at the same time I was a commercial actor. Kunghindi ko gagawin ang public affairs, mas gusto kong gawin 'yung drama roles. Andayokong gumawa ng gay roles because I was a UP Student Council member."
ADVERTISEMENT - CONTINUE READING BELOW
Roderick, entering the University of the Philippines inManila as a Political Science major, had been elected freshman representative."Our Student Council president then was [former editor-in-chief of The ManilaTimes] Malou Mangahas," he volunteers.
He speaks with pride of his days as a student activist."Nagra-rally ako sa Liwasang Bonifacio. Ako 'yung nagtatawag sa mga estudyante...Tumatakas ako sa daddy ko, natutulog sa mga squatter areas kasi doon ang caucusnamin. Doon ang planning namin sa may Manila, sa Ermita. Pinasok ko 'yan.Nakikipag-meeting ako doon."
Soon, his father found out. "Daddy ko, pina-stop ako sakurso ko. So ang nangyari, I had to shift to Theater Arts. In-assume ng daddyko na 'pag mawala ako sa Political Science, hindi ako mai-involve sa studentactivism."
But, he chuckles, his father was wrong. "Because when I wastaking Theater Arts, professors ko mga political detainees! 'Di ba si BehnCervantes nandodoon?"
ADVERTISEMENT - CONTINUE READING BELOW
He joined the theater groups Peryante and DulaangLaboratoryo and once portrayed Ninoy Aquino in a play mounted at Ayala Museum.He recalls dramatically that while he was delivering a monologue aboutrevolution, there was a commotion outside the building, while inside, the audienceand the actors smelled tear gas!
Dangerous as those times were, Roderick says they gave him asense of satisfaction. "I was enjoying it a lot," he confesses. "At the sametime, politically aware ako. Tapos nasa performing arts pa ako. So, balance."
The activist in Roderick resurfaced during the first PeoplePower Revolution in 1986. "Humarap ako sa tangke sa Libis," he says. He alsotrooped to the Channel 4 studio (now ABS-CBN). "Isa ako sa mga nag-secure ngstation. Sina Tessie Tomas nakita ko doon...the APO...we were inside."
Roderick admits that today his attention has gone topressing personal concerns. The only unmarried one in their brood, he says:"Siyempre, 'pag nag-e-age ka, nag-iiba rin. Madami ka na ring nasasagupangproblema.... My mom, naisip ko rin siya. My father died before Cory won.Parang...who will take care of my mom? Iisipin ko rin 'yon, 'di ba? May mgahindrances while you age."
ADVERTISEMENT - CONTINUE READING BELOW
Even then, his days as a student activist seem to have foundtheir mark. Roderick reflects: "It made me closer to the masses. I was able todo it in theater. I was able to do it sa pakikisalamuha ko sa kanila.... Kunghindi ko man magawa ang pagiging aktibista ngayon, nakatulong ang karanasan kosa pananaw ko sa masang Pilipino."
As such, he sees something in his role as one of thecountry's top comedians today. "If I can make them forget their problems evenfor just two minutes or five minutes, that's a big thing for me already."
Whether it's obliging a fan angling for an autograph,hosting a game show, giving in to pabati requests, or assisting shows inemergencies, Roderick Paulate is happy to help.
"A show of kindness, a show of love—happiness 'yon," Mr.Nice Guy says. "Kasama 'yon sa nagpapa-happy sa 'yo. Doon ko binubunot anghappiness ko."
ADVERTISEMENT - CONTINUE READING BELOW
(YES! April 2002 issue)