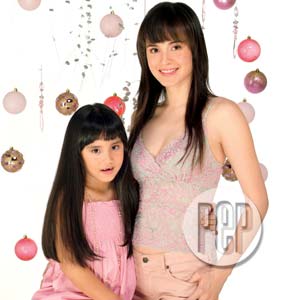 IMAGE 0
---
The name LucyTorres-Gomez is usually preceded by adjectives such as beautiful, lovely,sophisticated, sexy, quick-witted, well-mannered, talented, and intelligent.
These days, she's alsoconsidered TV's reigning dancing queen (via ABC-5's dance-reality show, Shall We Dance?), fashion magazines'favorite cover girl, advertising's power endorser, and the lifestyle pages'newest jewel (she writes two columns for ThePhilippine Star, "Love Lucy" and "StyleS.O.S.").
All these make her one ofthe country's most celebrated women.
For Lucy herself,however, there are no celebrities other than daughter Juliana and husbandRichard Gomez. Inside the Gomez household, Lucy turns into her daughter'sbiggest fan, always watching out for Juliana's new discoveries and tricks.
And just like anyordinary mortal and workaday mother, Lucy finds her mother role put to the testwhenever Juliana gets sick.
"Last August [2006]lang, she was hospitalized three times," Lucy says, still frantic at thememory. "First, she got a scar on her eyebrow that was caused by a steeldisplay rack that fell on her when she tried to dangle from it like a smallmonkey.
ADVERTISEMENT - CONTINUE READING BELOW
"Mga two weekslater, I had to rush her na naman to the hospital for suspected dengue. 'Butina lang it wasn't. It was systemic viral infection.
"Then, two weekslater ulit, I had to rush her again—on her birthday [September 8]—to thehospital for the same thing, systemic viral infection. 'Buti na lang it wasnothing. It was just in the air, and her immune system was low."
Lucy admits she's toblame. She's an insomniac, and at the same time a permissive mother who hastolerated Juliana's staying up late, mimicking everything her mother does. Thatwas what caused the lowering of Juliana's body resistance.
It happened when motherand daughter were in Ormoc, Lucy's hometown. Says Lucy apologetically:"She'd sleep as late as she wanted to, 'cause there was no school thefollowing day. As in, super-late nights. Hay, I only have myself to blametalaga."
ADVERTISEMENT - CONTINUE READING BELOW
It didn't help thatRichard, the more sensible person around in times of crises, was out on alocation shoot at the time.
"Ako kasi,"Lucy explains, "when you say, 'Go to the hospital,' as much as possible, Idon't want to go unless there's something seriously wrong na talaga. I grew upwith the mindset na pag hindi pa na-hospital, okey lang 'yon. Si Richard naman,for every little thing, 'Ipatingin mo na 'yan sa doctor for your peace ofmind.'"
The experience taughtLucy a lesson.
"Juliana's fever wasso high. 'Yon pala, malina 'yong dosage ng gamot niya. Kulang because she gained weight, she grewtaller, so she needed a different dose na daw. Kunwari, it was 10 ml. Dapatpala 12 ml. na siya o 15 ml. When I asked the doctor, 'Does it actually make asignificant difference?', he said, 'Yes, of course.' Meron pala. At least hindioverdose. Underdose."
ADVERTISEMENT - CONTINUE READING BELOW
While the crisis washappening, the ever-prayerful Lucy says she doubled the dose of her prayers.But she can laugh about it now that it's over.
"Whenever she'ssick, you only see half of Juliana," Lucy says, laughing. "That'sbecause she's covered with all the saints and all the crucifixes. Parang,daanin na ito sa dasal, hindi na kaya ng medisina."
Not content with sayingher own prayers, Lucy called up her mom, Julie Torres, and asked her to pray,too. "Si Mommy naman, she has all these madre na friends who'd help uspray."
At one point, Lucy says,she came close to taking the advice of Juliana's Yaya Lita: to let the girltake an albularyo concoction.The nanny said she had succeeded in curing two members of Lucy's domesticstaff, who also suffered from a high fever at separate times.
"Paano moginamot?" Lucy asked, and Yaya Lita replied: "Nagpunta 'ko sa gardenng kabilang bahay, naghanap ako ng wati!"
ADVERTISEMENT - CONTINUE READING BELOW
Wati, Lucy explains, isthe Visayan word for earthworm.
"Sinunog daw niya,ginawa niyang tsaa, at pinainom niya sa maid at sa driver namin! Awa ng Diyos,buhay pa naman 'yong dalawa at gumaling naman! Kaya nga, mukhang okey."
Lucy brings thumb andforefinger close together to indicate an inch: "Ganito na 'ko kalapit.Gusto kong gayahin na, kung hindi lang ako takot sa asawa ko."
Of course Richard wasvehemently against the nanny's prescription. "Maniwala ka diyan!"Richard scoffed.
Still, the thoroughlymodern Lucy can't help but be amazed by the quackery practiced by Juliana'syaya. Or is it unusual methods of traditional medicine?
"Iba-iba din talagaang science, ano?" Lucy says. "Kasi, kunyari, nauntog si Juliana. Angunang kukunin ni Richard, ice. Ilalagay sa ulo. Si Yaya naman, una niyanggagawin, kukuha siya ng buhok ni Juliana. Iiikot niya 'yan, dun sa partengnauntog, 'tapos hihipan. Hindi naman nagbubukol talaga! Ha-ha!"
ADVERTISEMENT - CONTINUE READING BELOW
These days, Juliana isback to her usual energetic six-year-old self. A preparatory student at aMontessori school, Juliana is all set to enter grade school next school year.
At a recentParent-Teacher Association (PTA) meeting, Lucy says, she found out that theteachers had been training Juliana's class in "how to learn to enjoy quiettime." And Lucy has noticed the big difference in her daughter:"Before, gusto niya noise. Now, she is really learning to enjoy quiettime."
Lucy says she also likesJuliana's former school, Children's TalentEducation Center,which is just inside their village in Greenhills, San Juan.
"I was so happy inthat school also," says Lucy. "She was happy din. They teach thepractical side of life—'yong how to arrange flowers in a vase, to clean upafter your own mess, 'yong practical stuff. They make learning fun. Like whenthey teach math, it's not just adding one plus one. They make it fun. I'm justhappy there. But nasagad na niya all levels, e. She has to move out."
ADVERTISEMENT - CONTINUE READING BELOW
Juliana insisted,however, that she would not move out of that school unless her best friend andschoolmate, Shanika, went with her. Shanika did. "They'reinseparable!" Lucy laughs.
At home, Juliana isbeginning to assert her territorial rights. In fact, she's already requestingthat she be given a room of her own. Right now, she sleeps with her parents.
"Almost every day,she's asking," Lucy sighs. "But only because she wants to decorate ither own way. She wants everything pink."
Lucy, who can hardlycatch up with Juliana's precocity, came up with a compromise. She gave Julianaher own bed, beside the matrimonial bed.
"Before, it was asofa that she made into a bed," she says. "Now it's really abed."
Juliana, who already hasstrong likes and dislikes, is also into make-believe office mode.
"She likes workingat her desk," Lucy laughs. "She's writing her own letters, or she haspaperwork to do. You know how kids are, they just pick it up from what theysee, di ba? Like me, I always work at my desk. "She sees me do paperwork,so she likes filing-filing din, like mga receipts.
ADVERTISEMENT - CONTINUE READING BELOW
"Juliana's desk,it's decorated the way she wants it talaga. She has her own stapler. She has amini-version of whatever I have. But hers lang is in pink.
"She's veryorganized. I'd like to say that she got it from me, but others say na it'sbecause of her sign—she's a Virgo and they want things daw talaga a certainway.
"Si Ben Chan angfirst na nagsabi noon, e. Sabi niya, 'Virgo ba itong anak mo?' I said, 'Why?'Kasi daw, when we were having dinner, she was running around the table, andthere was a bottle of Tabascowith the cap off. Midway, parang Juliana stopped lang, then put the cap back,then ran again."
Juliana's efforts to belike her mother-besides having her own office desk at home—is best seen in theway she dresses up.
"Kunwari, kita naniya 'yong suot ko," says Lucy. "She'll dress up based on what I'mwearing. Kunwari, pink and blue ako. Hanap din siya ng pink and blue. That'swhy siguro maraming stores, di ba, na may pang-mommy, may pang-baby, na exactlythe same, 'cause I think hindi lang siya. Most kids talaga, gusto kapareho'yong ano, hawig 'yong mommy."
ADVERTISEMENT - CONTINUE READING BELOW
And why not, when the kidand the mommy end up looking this good!