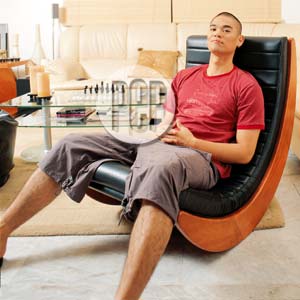 IMAGE 0
---
At 24 (at the time of this YES! June2005 interview), Jay-R is on top of the world. Since he launched his career inthe Philippines two years ago, the local Prince of R&B has been in greatdemand not only as a concert performer but also as a product endorser (Suncell,Bench), and his first local album, Gameface,with the hit song "Bakit Pa Ba?," was a chartbuster.
Born and raised in the United States,Jay-R (real name: Gaudencio Sillona III) comes from a musically inclinedfamily. "Minsan nga,my mom sings while my dad plays the piano for hours," he says. His three oldersiblings are also into music. Jay-R himself was already a full-fledgedperformer before he entered his teen years.
"When I was 10, I was already singingwith a group and doing it professionally, like getting paid for shows. Ataround 13, I fell off for a year. Siyempre,you're going through your teenage years and you don't know what you want. Butat 14, I got back in talaga,and I just went for it."
ADVERTISEMENT - CONTINUE READING BELOW
When he got an offer for a network deal from GMA-7 and a recordingcontract from Universal Records, Jay-R jumped at the chance, even though itmeant being separated from his family. "You've got to leave home to grow," hephilosophizes, "so that's what I did."
His family,obviously, was ecstatic for their bunso. "They'd just beenwaiting for something like that. They were real proud. They were happy."
When Jay-R moved from his plush condounit in Greenhills and bought a house in the quiet community of New Manila inQuezon City, music was also an important consideration: "I got a house where Icould build recording studios so I could just work at home. It's moreconvenient."
The house also provides him with alittle privacy. His fans had been able to locate his Greenhills condo and wouldoften knock on his door: "Humihingi ngautograph, mgapictures."
ADVERTISEMENT - CONTINUE READING BELOW
The title that has been bestowed on himby publicists and the press—local Prince of R&B, which would make him thePhilippine version of Usher, the multi-awarded American performer—is a big loadon his shoulders, according to Jay-R. "It's quite a heavy responsibility. Siyempresa States, si Usher, we call him the Prince ofR&B. I'm nothing compared to him, so parangmahirap din."
On top of everything, JR has alsoappeared on two television shows, Narito ang PusoKo and Love to Love.He was also cast as Kris Aquino's husband in 2004 Metro Manila FilmFestival entry, Happy Together.
And he hopes to venture into otherfields! For this, his partners are friends Jimmy Muna and Christopher Lawrence,who live in this same New Manila home.
"They're really intofurniture designing. Maybe we'll go into clothing. There are other things also na I wanna get into. I wanna start my own record label. I wanna buyhouses. Ang dami pa!"
ADVERTISEMENT - CONTINUE READING BELOW
Then he adds with alaugh, "And I wanna have a million dollars!"