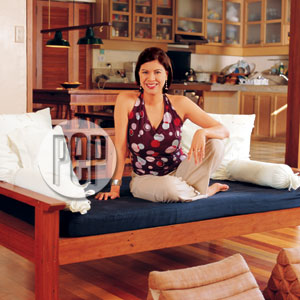 IMAGE 0
---
Loyal viewers of GMA-7's morning show Unang Hirit (UH) havebeen witness to Suzi Entrata's professional and personal growth-first, as oneof the program's co-hosts; then, as a wife and mother.
"Obviously, I've changed since the first day of work," the30-year-old Suzi admits. "I got married, had our first baby, and then oursecond baby. Parang nag-evolve rin 'yong character ko sa show. Now, I'm thoughtof as the mom on the show, kasi ako 'yong unang naging nanay sa kanila."
After four years of marriage and two adorabledaughters-two-year-old Leona and nine-month-old Jade-Suzi is still burstingwith the boundless energy that brings smiles to UH viewers early in themorning. She recalls the early years of her marriage to TV host and commercialmodel Paolo Abrera and what it was like to move to their new home in Parañaque.
"When we moved in, wala kaming helper. We really wanted itto be that way. So Paolo and I used to do everything: cook, clean, maintain thehouse. Kaya lang, after a while, nagkakatamaran na kaming maglinis!"
Fortunately, the couple could always get backup from thefolks next door—who happened to be Paolo's parents, advertising agency veteranEmily Abrera and the late television producer Carlos Abrera. It was only afterSuzi gave birth to her first daughter that she and Paolo got househelp.
That was only the beginning of the lifestyle change. TheParañaque house used to be a place where friends could hang out.
ADVERTISEMENT - CONTINUE READING BELOW
Now, everything had to give way to strollers, toys, andother kiddie knickknacks.
"Medyo parami nang parami 'yong na-accumulate naming junk.We didn't have as much space as before. Dati, it was so spartan. Dati, it wasjust like all wood, all the furniture. Ngayon, ang daming kulay na. Kasi,siyempre, bright colors for kids, di ba?"
Parenthood also altered Suzi and Paolo's daily routine andinterests. The adventurous pair had met on the sports magazine show Game Planand were then very much into athletic activities such as biking and swimming.Now they don't have as much time for sports or even partying and moviegoing.
"We don't get to go out as much anymore. And if we do,there's always careful consideration. There's always that feeling na 'Okay, I'mgonna stay home today first, hang out with the kids, before we go out at night,para hindi naman buong araw natin silang linayasan.' Of course, it's not aseasy to travel anymore or just suddenly have dinner out or suddenly watch amovie. I guess in the beginning it was almost as if we couldn't really doanything anymore, aside from just staying home with the kids. But eventually,when you kind of relax and loosen up, okay naman pala. You should go out oncein a while, definitely. You just have to preplan it."
And does she and Paolo still plan on having more kids?
"Siguro, if it's going to be a boy next timearound—'yon, medyo rest for sure na."
ADVERTISEMENT - CONTINUE READING BELOW