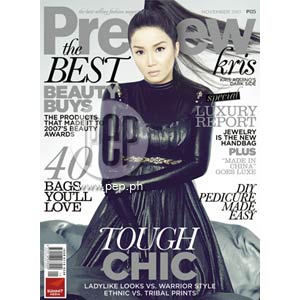 IMAGE 0
---
KrisAquino has always been in full control of her career, with very firm ideas on what she wants, what she says, and what she wants the public to see. And so, she has kept her audiences mesmerized, watching herthrough 24 years in showbiz, growing up from teenybopper to award-winning host andactress.
Keepingthat in mind, Preview Magazinesought to give the public a sideof Kris they had never seen before, and prepared for a shoot that would bedeemed perfect by a star of her magnitude. While the staff had been anxious toget everything just right, Kris proved to be one of the nicest celebrities Previewhas ever shot. With breathtaking photographs, the Novemberissue of Preview shows Kris wearing tough chic, one of the strongesttrends in this year's Autumn/Winter season.
It is Krisas you've never seen her before, in an all-black ensemble, barely-there make-up,and hair swept into a high ponytail. But beyond showcasing the different anglesof Kris' face, Preview also discovers that there's more to Kris than thepublic has ever seen before.
One is howspiritual Kris has become. "It's true talaga naif you start and endyour day reading something spiritual, impossible talaga nayou won'tbelieve naGod wants you to be happy," she says as she wraps up thesecond installment of her inspirational record titled Songs of Love andInspiration, which will be out this Christmas. But lest she start soundingholier-than-thou, Kris is quick to share how three of her Louis Vuittontrolleys were ruined because fish sauce was spilled on them. "Natapon yan kasisabi ni God materialistic ka," she reasons, somehow managing to reconcile themundane with the spiritual.
ADVERTISEMENT - CONTINUE READING BELOW
Kris manages tostrike a perfect balance in life: she is friendly but professional, stubbornbut submissive, career-driven but home-loving. Of the latter, she says, "Ifthere's one thing the people still don't know about me, it's that I nest. I amhappy to be just home, reading."
See Krisas you've never seen her before by grabbing your copy of the November issue of Preview magazine. Also featuring the best beauty buys to make it in this year'sBeauty Awards, Preview is available in all leading bookstores andmagazine stands at P125 per copy.