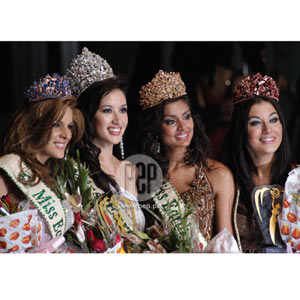 IMAGE 0
---

A new queen was chosen yesterday, November 11, during thecoronation night of Miss Earth 2007 at the University of the Philippines Theater inDiliman, Quezon City. Ms. Canada Jessica Nicole Trisko bested 87 otherdelegates for the title, which was previously held by Hil Hernandez of Chile.
The pageant, which was aired live last Sunday night onABS-CBN, was hosted by MTV Asia VJ Greg "Utt" Panichkul and Ms. Earth2004 Priscilla Meirelles. The Brazilianbeauty queen is currently the flame of actor John Estrada.
Jessica is a political science Ph.D. student at McGill Universityin Montreal, Quebec. Her mother, Maria Elizabeth Asuncion Domingo, hails fromManila. The newly crowned beauty queen was born and raised in Vancouver,British Columbia.
A total of 88 environmentally aware and concerned youngladies competed in the Miss Earth beauty pageant, which is organized byCarousel Productions. Now on its seventh year, Miss Earth is a pioneeringbeauty pageant that serves as a vehicle for environmental advocacy.
Ms. Philippines Jeanne Angeles Harn of Montalban, Rizal, wasadjudged the Most Photogenic for the competition. She is an account executivefor an advertising agency, as well as a commercial and print model.
Other special prizes given away that night include: BeautyFor A Cause Award: Bokang Montjane (Ms. South Africa); Miss Friendship: AmaleAl-Khoder (Ms. Lebanon); Miss Talent: Monica Baliunaite (Ms. Lithuania); andBest National Costume: Jiraporn Sing-ieam (Ms. Thailand).
Ms. Venezuela Silvana Santaella was an early favorite amongthe contestants as proven by her two special awards—Best in Long Gown and Best inSwimsuit.
ADVERTISEMENT - CONTINUE READING BELOW
Another segment host that evening was 2006 Miss Philippines-Air Ginger Conejero,who also works as a showbiz news reporter for the Kapamilya Network. During theprogram, Ginger interviewed Ms. Canada Jessica Nicole Trisko, who toldthe audience, "I'm so grateful and so blessed to have this opportunity torepresent my country. I wish the Filipinos so many blessings in return."
The 16 semi-finalists announced that night were: JessicaNicole Trisko (Ms. Canada); Eva Čerešňáková (Ms. Czech Republic); ThemysFebriel (Ms. Dominican Republic); Nanka Mamasakhlisi (Ms. Georgia); PoojaChitgopekar (Ms. India); Amale Al-Khoder (Ms. Lebanon); Elodie Delor (Ms.Martinique); Stacey Garvey (Ms. Nigeria); Odilia Pineda (Ms. Peru); AlinaGheorge (Ms. Romania); Bokang Montjane (Ms. South Africa); Angela Gomez Duran(Ms. Spain); Ivana Gagula (Ms. Sweden); Stefanie Gossweiler (Ms. Switzerland);Jiraporn Sing-ieam (Ms. Thailand); and Silvana Santaella (Ms. Venezuela).
They were later trimmed down to eight finalists, who all showedoff their winning form while wearing Filipiniana creations by Anthony CruzLegarda. His collection was dubbed E3, which stands for "Earth, Ethnic, andÉlan."
Ms. Canada, Ms. India, Ms. Venezuela, Ms. Spain, Ms.Georgia, Ms. Peru, Ms. Switzerland, and Ms. Thailand were then tasked to answerquestions from eight environmental leaders to determine if they would move onto the final round.
MTV VJ Utt, who happens to be Thai, had to step in totranslate for Ms. Thailand since the interpreter had some difficultytranslating the contestant's answer.
For the final round, all scores are back to zero and theywill be judged based on their answer to the final question given to all ofthem. The Final Four—composed of Ms. India Pooja Chitgopekar; Ms. VenezuelaSilvana Santaella; Ms. Spain Angela Gomez Duran; and Ms. Canada Jessica NicoleTrisko—were given headsets so they could not hear the question and the responseof the other contenders.
ADVERTISEMENT - CONTINUE READING BELOW
The host asked the ladies one by one: How would you describethe beauty of Mother Nature to a blind child?
Jessica gave a poetic answer: "I would say that the beautyof Mother Nature smells as sweet as the sweetest rose, the beauty of MotherNature feels as soft as the softest leaf, and the beauty of Mother Nature singslike the birds and the trees."
After tallying the scores, it was finally announced that Ms.Canada Jessica Nicole Trisko is this year's Miss Earth 2007.
Ms. India Pooja Chitgopekar was proclaimed as MissEarth-Air, the contest's equivalent of a first runner-up.
Ms. Venezuela Silvana Santaella and Ms. Spain Angela GomezDuran were adjudged Miss Earth-Water and Miss Earth-Fire, respectively.
Click MORE PICTURES to view photos of the coronation night.