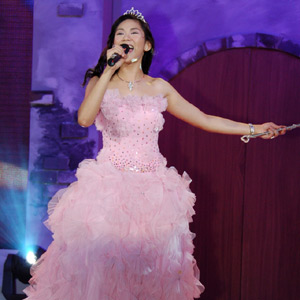 IMAGE 0
---
In time for the Halloween season, more than 900 Jollibee Kids Club (JKC)members wore their most colorful costumes for Jollibee's November 4 kiddieparty, which carried the theme Magical Forest. Elves and fairies danced with the kiddiemascots while reigning pop princess Sarah Geronimo acted as the Queen Fairy.
For one whole day, the kidsfrolicked with mystical creatures while enjoying the different games andactivities. After a glow-in-the-dark welcome from the Magical Forest's friendlyresidents, they explored Fairyland and the Mystic Cave for arts and crafts aswell as puppet shows. Entertainment was also provided by Mad Science with theirbubbling slimy experiments, magicians, face painters, glitter tattoo andballoon-twist artists. Special JKC bags full of Halloween treats were alsogiven out.
Before the big show at the EnchantedCastle, JKC members had fun dancing the afternoon away as they were taught thesteps to the new Jollibee song. Six of the best were chosen and joined Jollibeeand friends for a special number on stage.
Fairy and elf dancers soonbrought life to the Magical Forest story as hosts Suzi Entrata-Abrera and JMRodriguez read from a big book of legends. The soothingly crystal-clear voiceof the Queen Fairy filled the air as Sarah sang delightful tunes and revealedthe spectacular storybook ending with the help of Jollibee and friends. Theyoung pop singer stayed later on to sign autographs for her fans.
It was a day of fun and fantasy toremember as Jollibee filled SM Mall of Asia's music hall with enchanted beingsand magical designs.
ADVERTISEMENT - CONTINUE READING BELOW