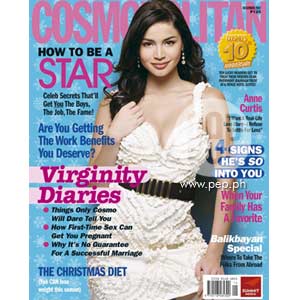 IMAGE 0
---


AnneCurtismay not have a special someone with whom to share the holidays thisDecember, but the 22-year-old actress isn't bothered. "This has been mylongest no-BF spell," she explains the two-year hiatus to Cosmopolitan magazineas she graces the cover of its December issue.
Surely oneof the most beautiful faces in Tinseltown has no shortage of suitors (one ofthem rumored to bematinee idol Sam Milby) but Anne declares, "I wantnothing less than my very own real-life love story. The next time I fall inlove, I want it to be with the man who'll become my husband."
Evenwithout a man by her side, Anne's life is truly filled with blessings. With MagingSino Ka Man, Book 2 right around the corner, and another soap opera—TheWedding with Eula Valdez, Zanjoe Marudo, and Derek Ramsay—waiting in thewings, Anne is proving to be one of the busiest actresses in showbiz today. Sheis also set to star opposite Aga Muhlach in Star Cinema's Waiting for YourLove.
"I'm thankful for the opportunities that have been given to me," Annetells Cosmo, "I've come to really enjoy fleshing out these imaginedlives and I am honored by the trust people give me."
All theseblessings prompt the former party girl to say, "Now I know that I don't need toparty to feel alive." The inside scoop on Anne's transformation and hersurvival guide for single girls are in the December issue of Cosmopolitan.
Availablein all leading bookstores and magazine stands nationwide, Cosmo alsogives 10 lucky readers the chance to treat their friends to an overnight barkadatreat at A. Venue Hotel Suites. Find out more by grabbing your copy of Cosmofor P125 per copy.
ADVERTISEMENT - CONTINUE READING BELOW