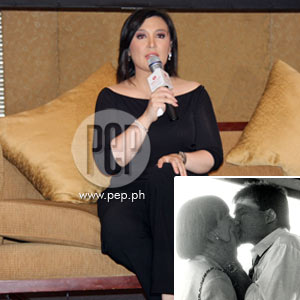 IMAGE 0
---


Sharon Cuneta-Pangilinan will be celebrating her 30thanniversary as a singer this coming January. She announced this during theDecember 6 media launch of her latest album, Isn't Is Romantic? Volume 2,under Sony BMG. The Megastar was wearing an all-black Rajo Laurel ensembleduring the press conference that took place at the Ballroom B of the CrownePlaza in Ortigas Center.
"I've been singing for 30 years na and I've been acting for27 years. I always peg it at January because it was on January 12 when theycalled me to go to Vicor [Records]," she explains.
Sharon is also ready to revitalize her movie-acting career.She is currently shooting the Star Cinema movie London Caregiver and there are talks to make another movie with Aga Muhlach under Star Cinema, and with Robin Padilla underGMA Films. The Megastar is also planning to make another project with UnitelPictures. It will be remembered that she collaborated with Unitel to produce LaVisa Loca, the indie film starring Robin.
ADVERTISEMENT - CONTINUE READING BELOW
Members of the press were curious to know about her reactionto the news that Gabby Concepcion will be staging a showbiz comeback via hismovie with Jolina Magdangal. "Ah, my friend abroad. Is it true? I'm happy forhim," says Sharon.
Would she consider doing a movie with Gabby?
"I have no problem with that. First and foremost, I have toput my family first and think how it will affect them. I know my husband [Sen. Kiko Pangilinan] is such a secure personfor marrying me and we've been together for 12 years now."
When asked about the possibility of forming their loveteamonce again, Sharon answers candidly, "I miss it too. I miss the loveteam butyou don't know what happens inside a couple's bedroom. It broke a lot of heartswhen we broke up, mine got broken the most. You know, iba ang team up onscreenat iba sa tunay na buhay. Sa akin, wala akong problema, e.
ADVERTISEMENT - CONTINUE READING BELOW
"Ang worry sa akin...paglalaruan yung team up. Siyempregagawan kayo ng write-up na baka magkabalikan uli."
She even makes light of the situation by saying, "Sure akongmade-develop siya uli sa akin kaya 'wag na lang, kasi tahimik na ang buhay namin,e. Joke lang yun!"
Sharon and Gabby were paired together for the movie DearHeart in 1981. This paved the way for their onscreen romance to blossominto a real-life relationship. They got married on September 23, 1984. Theylegally separated in 1987 until their marriage was annulled six years later.She is now married to Senator Kiko Pangilinan while Gabby is with his presentwife Genevieve Yatco Gonzales in the United States.
NO PACKAGE DEAL. Sharon emphasized that she andher daughter KC Concepcion are two individuals who have totally different career paths. She stressed to Sandra Chavez, KC's manager, that:"This has to be very clear. There has to be a very clear distinction between meand KC. We are not a package deal."
ADVERTISEMENT - CONTINUE READING BELOW
"Alam ni Lord 'yan, wala akong alam sa nangyayari sa kanyaexcept for personal...We don't talk about work at home. She has actually boughther own pad but it's not completed yet. She'll be living with me for a few moreyears."
Does KC have a boyfriend now?
"Siya na lang tanungin n'yo. Pero sa tingin ko, wala, e.Feeling ko walang commitment. She has so many friends. They're all nice naman.
"You know what, whoever joins our family will be very lovedas long as you give me grandchildren," says Sharon about her future son-in-law.
SLIMMER SHAWIE. Sharon is very proud of her slim look because she workedhard for it. While showing off the photos that Jun de Leon took of her for thecover of her new album, members of the press pointed out that she looks like shecould be the older sister of her 23-year old daughter. "That is actually ourgoal in life—to look like sisters forever."
ADVERTISEMENT - CONTINUE READING BELOW
Because of her South Beach diet, Sharon feels hungry all thetime but says it is still manageable. "I feel so good about myself because I'veneglected myself because of my family.
"For four years, I was the wife of a senator and I was themother of the Powerpuff girls [her daughters KC, Frankie, and Miel]. I forgotmyself. When I turned forty, something happened. Before, I had no gana to workbecause I was enjoying being with my girls. This time, I was excited to make afull-fledged comeback."
For sure, her fans are excited to see the Megastar return tothe big screen.