Planning to save this 2020?
It may be a New Year's resolution that's easier said than done, but with the right strategy and persistence, you'll end up richer by the end of the year.
Saving is also an important aspect of adulting because, according to Forbes Magazine, your savings will serve as your "safety net" or buffer "against unexpected lifestyle changes and cataclysmic events."
Besides, savings can lead to bigger things, such as an investment or a business.
"Nearly everyone would like to be financially secure, but it is saving continually over time that provides the required capital," says Forbes.
So how do you start stocking up on funds for the coming year?
Licensed medical doctor and registered financial consultant Dr. Pinky De Leon-Intal recommends the "24 Payouts Money Challenge" as an effective way to do it.
It requires setting aside at least PHP50 from your first payout for the year.
Then you increase that amount every payout by PHP50, or the initial amount you decided to shell out, up until your last payout for the year.
"Since most Filipinos are receiving their paychecks twice a month, then this is a more fitted money challenge," she says.
Dr. Intal provides a step-by-step guide for this savings scheme on her website, myfinancemd.com.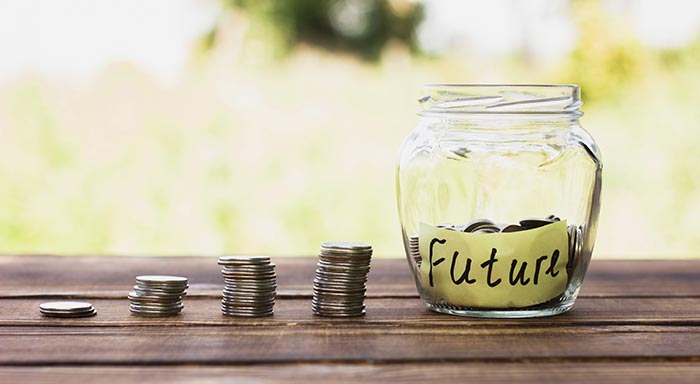 STEP 1: SET A GOAL
When it comes to fulfilling New Year's resolutions, nothing is sweeter than the idea of finally getting what you worked hard for.
So when starting the 24-Payout Money Challenge, you should have the end goal in mind.
"Ask yourself, what are you saving for?" says Dr. Intal.
"Once you know where your money is going, you can now set the budget you need to stay committed," she says in another blog post.
After deciding what you're saving for, proceed to "compute how much you need for that goal."
STEP 2: DECIDE THE ACTUAL AMOUNT TO SAVE
With your goal in mind, decide the amount you will accumulate until your 24th payout during the year.
Dr. Intal recommends an amount "that will not be too much on you, but also not too little also. Just right for your goal and you are comfortable on saving till the end."
You may go as low as PHP50 with Dr. Intal's computations below as your guide.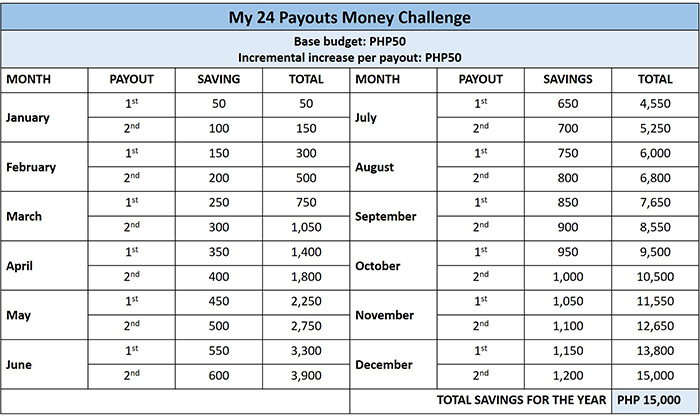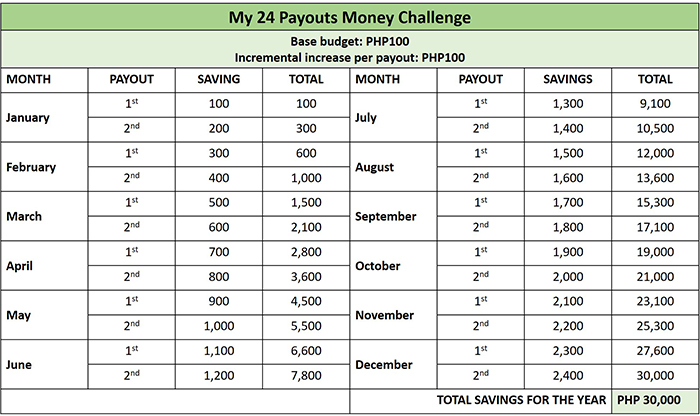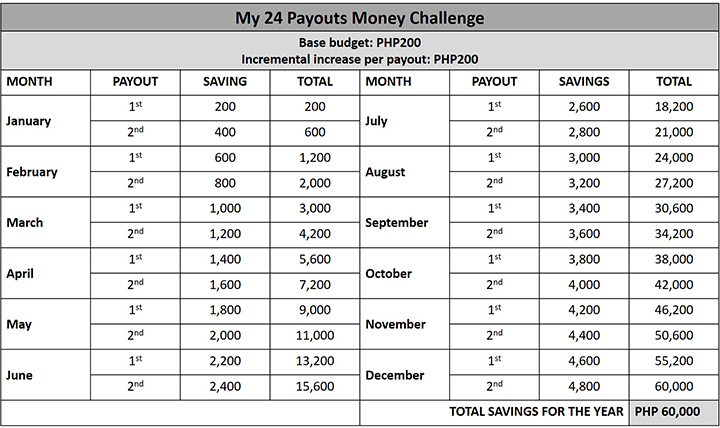 STEP 3: start saving
Get an "indestructible container" where you will store all your cash, and on it, paste a printed copy of the table of your preferred saving method.
Once you've started putting cash in it, "Highlight the week you have already saved your money.
"Once highlighted, it means it is done," says Dr. Intal.
You can also adjust the schedule of your deposits.
You can add two payouts together if you prefer to deposit just once a month.
Dr. Intal adds, "If you have extra more money you want to save in earlier months, you can get ahead of your savings, just highlight the week you have already put your money into.
"As the months progress, saving becomes more difficult.
"So any advance savings you can do on the first few months can make the latter months much easier."