Summer may be right around the corner, but there's still time to start your balik alindog program.
To help you get that beach-ready body, PEP.ph (Philippine Entertainment Portal) consults Fides Gimenez, a CrossFit Level 1 trainer from Avant Garde CrossFit, for a series of fitness exercises designed to address common problem areas.
This first set of exercises targets the upper body, particularly, the chest, shoulders, arms, and back. It will help get rid of the back fat and the bra bulge. It will tone the flabby arms, too.
For each exercise, Coach Fides says one must do 15 to 20 reps, and rest for 20 to 30 seconds then repeat the series four times.
For the exercises that require parallettes, you may also use kettlebells or push-up bars or dip bars.
Check out these easy-to-follow exercises as demonstrated by Coach Fides:
PUSH UP
Position your wrists and forearm-width directly under your shoulders. As you descend, keep your elbows close to your body. Exhale as you extend your arms.

Easy variation: You can also do this movement with your knees on the floor.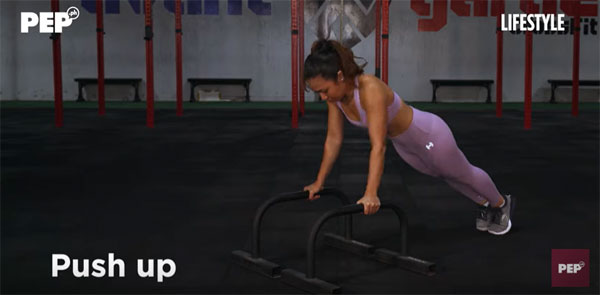 DIP
Position your legs in front of your body, and as you descend, point your elbows back. As soon as your butt touches the floor, extend your arms while keeping your torso neutral.
Easy variation: This movement can also be done with your feet flat on the floor.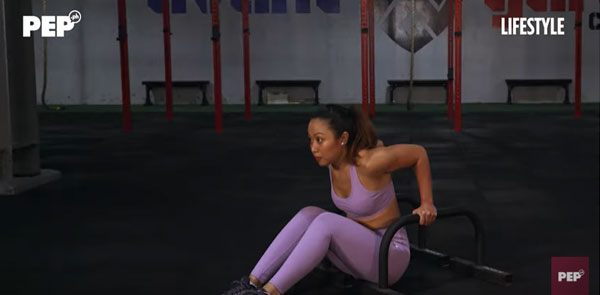 PASS THROUGH
Go into a high plank position, press against the parallettes to shift your weight and propel your body forward and back.
Easy variation: To make this movement more manageable, you can break the movement by stepping in the middle before bringing your body to the other side.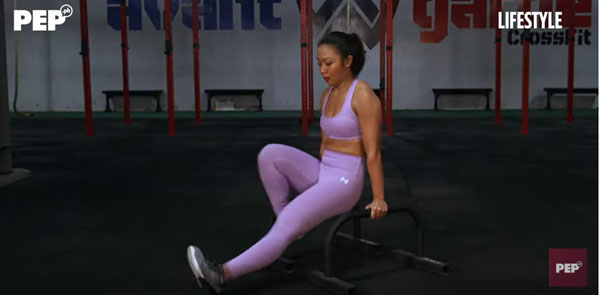 L-SIT HOLD
Tighten your core and engage your legs. Press against the parallette to hold your body.
Easy variation: For beginners, you can tiptoe your left foot while extending your right, and vice-versa.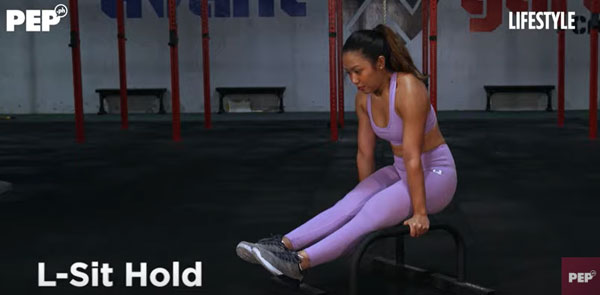 more FITNESS TIPS FROM COACH FIDES
Is it advisable to eat before a workout?
According to Coach Fides, to eat or not to eat before working out depends on the person.
Some students prefer to do fasted workouts, while others feel the need to have a light meal before exercising.
For beginners though, she recommends grabbing a bite at least half an hour before working out.
Whichever you may choose, it's important to stay hydrated during the workout. Opt for water as flavored drinks contain sugar and other ingredients that are not beneficial to the body.
Coach Fides also points out that what to eat depends on the person's preferred diet that is line with his or her fitness goal.
One's lifestyle and daily routine must also be considered when choosing the best time to exercise.
For more workout tips and personal coaching, follow Coach Fides on Instagram, @fidesgimenez.
Avant Garde CrossFit is located at No. 123 Pioneer St., Mandaluyong City.