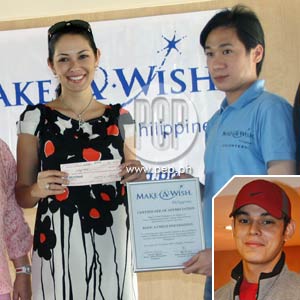 IMAGE 0
---
For the past two days, Ruffa Gutierrez has been quietlyturning over the funds that were raised during RRRampa for a Cause. Thebazaar and fashion show was held on September 16 last year. Ruffa, togetherwith her brothers Richard and Raymond, called on their celebrity friends to helpout in the event. Ruffa said they were able to raise about P1.7 million.
"Last year, we made P1 million which we gave to Unicef andthe Philippine Red Cross. So, this year we decided to hati-hatiin yung mganaipon namin, yung na-i-raise naming funds. Make-A-Wish Foundation was P200,000.World Vision was P700,000. UNICEF, P500,000. And then, Asilo de Milagrosa inCebu is P100,000," Ruffa detailed.
Ruffa met with Make-A-Wish Foundation last Monday, January14 at Sapori Trattoria restaurant in Greenhills. Ruffa was with her parents,Eddie Gutierrez and Annabelle Rama when they handed the cheque to Make-A-WishPresident Ramon 'Booie' Segovia. The cheque amount of P200,000 will help around15 to 20 children in their wish-granting programs.
"We would like to thank Ms Ruffa Gutierrez and her brotherswho joined her also in RRRampa for a Cause. You know they make use oftheir celebrity status for positive socially relevant issues like helping ourkids, most have cancer. With their donation, we would be able to grant wishesto our kids and make their lives more meaningful," Booie Segovia said.
To which Ruffa replied, "As for me, I believe that me, mybrothers, Richard and Raymond and our family, we're just instruments of God.And I don't think that we should be glorified. We're being used as a tool tohelp others because I wanna use my being a celebrity, especially this year, tohelp others because God gave me a second chance to make a comeback for a reason. Ijust wanna enjoy my fame, and I wanna enjoy it in a good way."
ADVERTISEMENT - CONTINUE READING BELOW
Ruffa added that she was also available for any wish-granting activities of Make-A-Wish.
Yesterday, January 15, Ruffa was joined by her brotherRichard at the United Nations offices in Makati City to give their cheque toUNICEF (United Nations Children's Fund). Also with them were Ruffa's kids,Lorin and Venice, and their mom Annabelle. Rhian Ramos, a close friend andRichard's co-star in his Captain Barbell show also joined them.
"Parang advanced birthday celebration 'to sa UNICEF. I'mjust so happy, I'm just so blessed na yun, kasama ko yung family ko ditongayon. At siyempre, gusto ko pasalamatan lahat ng mga artista from bothnetworks na sumuporta sa event namin to make this all possible. Maramingsalamat sa lahat ng kapwa artista. Sana patuloy ang pag-unite natin paramakatulong," Richard excitedly said.
"It's really great to be reaching out, to be helping out andto be part of this event," the star of Kamandag said. "I feel so blessedwith my family that we were able to raise a lot of funds to help our children.But we are all just instruments of God for this event. He was the One who madethis possible. He was the One who gave us inspiration."
Loveless Richard. "For my birthday, you know it's myfirst time that I'm not going to celebrate a big celebration. Siguro, intimatelang with the family and a few friends. Since this year, I told you that I'mvery busy. So, sa mismong birthday ko, I'll be working. I'm just spending mytime with my co-actors," when asked about his birthday plans.
ADVERTISEMENT - CONTINUE READING BELOW
But Richard was caught off guard with a question about hisbeing loveless on his 24th birthday.
"Ano wish mo sa birthday mo, Chard? Loveless ka daw ngayon," Ruffa threw the question.
"Loveless. Well, I have a lot of people who love me," asurprised Richard told his sister while cameras were taping.
"Like...?" Ruffa continued.
"My family, my friends. And here, the people at Unicef. So,I'm very happy. This year, I just wanna continue working hard and give it back.I wanna organize an event this year with the family. Definitely, we're gonnamake it happen again," Richard said as he smiled back at Ruffa.
Richard was also asked if he would consider dating onceagain, especially KC Concepcion. Her mother Sharon Cuneta kidded in herbirthday concert last week that her daughter was available to be courted by anyguy.
"I guess that's very good news. Right now I'm very busy withwork. I'm so busy. I'm focused this year. I wanna achieve a lot of goals thisyear. Do positive things. So, tingnan na lang muna natin. As of now kasi, Ican't afford na manligaw or magkaroon ng relationship kasi sobrang busy ko nga.Unfair naman. So, take one step at a time. Let's see what happens this year,"Richard said.