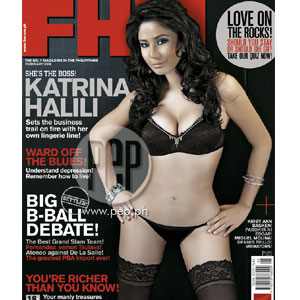 IMAGE 0
---
Katrina Halili once again graces the pages of FHM as she talks about her career, superstardom, and the concept of living a quiet life once her star fades. However, it is quite difficult to take out the two-time FHM's sexiest spotlight just yet.
Why? You might ask. It's not necessarily about the curvaceous body, the mouth-watering lips, and the mesmerizing eyes. So what makes Katrina click with the crowd?
When asked about her feelings now that she's superstar material, she replies, "Hindi ako sikat...I've always been thankful with what I have, ine-enjoy ko lang."
If you haven't guessed it yet, it's her personality. Yes, the El Nido native remains grounded amidst success and reacts to it the same way she reacts to the countless other projects given to her through her four years in the business—by feeling blessed. Blessings can sometimes take up the most time in her schedules, but the busy Katrina still makes one's day by getting up close and personal with a couple of lucky fans, chatting, and signing autographs.
Just recently, Katrina visited the Home of the Golden Gays—a place for aged gay people—for a post-birthday celebration. Not exactly the ideal type of men to "admire" Katrina, but people admire her not because of her popularity but because she uniquely shows her appreciation for people, regardless of gender or age.
The characters she portrays in different TV shows show how broad her fan base can get, ranging from a super-villain in Darna to a scheming Angelika in Marimar. Truly, Katrina has gone a long way not only by being FHM's sexiest, but also by her simple belief in just making people happy.
ADVERTISEMENT - CONTINUE READING BELOW
Grab a copy of FHM's February 2008 issue to read the whole interview and "appreciate" a sexier Katrina Halili.