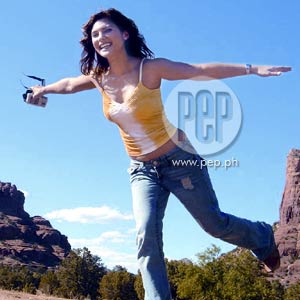 IMAGE 0
---
The versatile Vina Morales is possibly one of the most widely traveled Pinay performers we have around, thanks to her international-caliber song-and-dance talent. Given the chance, our Vina could give Jennifer Lopez a run for her money!

Vina's many trips all over the world have been mostly for concerts, although there have been a few R&R trips as well.

When YES! asks to borrow some of her souvenir photos, she happily obliges. But it takes her over a month to actually give us the photos.

She sends them all to us via email. She provides some funny captions, too. (Captions enclosed in quotation marks are by Vina herself.)

"Here are my trips in 2005-2006," she writes in her first email. "Took me a long time to send this to you 'coz the folders of my pictures are in such a mess… so hard to find, he-he...

"'Yong ibang countries, wala diyan… it's because I went there before 2005 pa. Don't ask me na lang the dates kasi sira 'yong setting ng digicam ko. Mali ang dates. Maski ako, di ko na matatandaan lahat 'yan, he-he.
"While I was looking at my pics, ang dami ko na palang countries and cities—aside from what I sent you—na napuntahan. I'm so lucky that I get to travel a lot...

"I'm looking forward to my next travel adventure in 2007. Gusto kong makapunta sa Africa saka sa Egypt.

"Bahala ka na diyan… sumakit ulo ko, a!"

When we ask more questions—per country—Vina, ever the trouper, does her best to answer them all.

"Pinagpuyatan ko 'yan, a," she jokingly complains in her second email. "Sumakit likod ko."