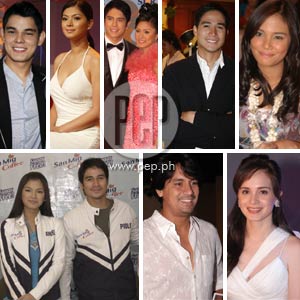 IMAGE 0
---
Nowadays, many a TV commercial features lovey-dovey moments between a man and a woman—the better if they're showbiz celebrities or well-known models. The ad may tell a story that grips your attention as much as the drama series it puts on hold for two minutes or more.
In other words, take a lovely couple who're a perfect match, throw in a short romantic storyline, and Voila! The faces, the action, andthe shampoo or beverage all become an affair to remember the next time you go to the supermarket.
Here on PEP's Top List are the ad couples, past and present, whose chemistry greatly enhanced their endorsements on TV.
We know it's cheesy, but, hey, it's the Month of Love!
Richard Gomez and Lucy Torres-Gomez (Lux shampoo)
Who can ever forget the 90's Lux ad featuring a veryhandsome Richard Gomez going after Lucy Torres? That seemingly ordinarycommercial proved to be the romantic bridge between Richard, then themost eligible bachelor, and Lucy, the fair haciendera fromOrmoc, Leyte. The Lux ad featured a dramatic love story between a clean-cutRichard going after Lucy in a series spanning four years.
Lucy already had a long-time crush on Richard and meeting Richard fueled it even more. But the Adonis of Philippine Cinema was attached to somebody else at the time. Communication between Richard and Lucy after the first commercial shoot waslimited to phone calls.
Things started to get serious when the ad wrapped up its final commercial (1997). By then,Richard was single and he was said to be head over heels for Lucy. Therest is history.
Piolo Pascual and Isabel Oli (Max's Restaurant)
Max's Restaurant specializes in fried chicken and other Filipino dishes. Usually, the company's ads focused on family get-togethers with everyone enjoying a meal at the popular restaurant.
ADVERTISEMENT - CONTINUE READING BELOW
Things got a lot more interesting when Max's ads featuredPiolo Pascual in a love story about a Max's employee (Isabel Oli) who'sthe childhood sweetheart of a TV celebrity (Piolo). The ad portrayeda series of scenes in the love story, from the characters' childhood together, to their parting of ways, and in a happy ending, their reunion.
The commercial series was so creative, it lookedlike a mini-telenovela. It became so popular that people actually monitored the story'sprogress. The success of the series helped launch Isabel Oli's actingcareer.
Isabel Oli's real name, by the way, is Maria Olivia Daytia.The screen name "Isabel" takes after Maria's character in thecommercial.
Piolo Pascual and Angel Locsin (San Mig Coffee)
This 2006 commercial, appropriatelycalled "Dreaming," showed Piolo getting into his car and driving to a mansion where Angel is waiting. Upon arrival, Piolo takesoff his polo shirt, revealing his toned hunky Bod. A very sexy Angel approaches, their bodies are aboutto touch... And they sip San Mig Coffee.
Angel and Piolo simply looked great together inthat commercial. During its initial run, people already imagined them as a reel love team, what with their shared kilig factor. With recent showbiz events, Angel and Piolo's fans are having their wish come true. They're becoming ABS-CBN's hottest TVcouple.
Richard Gutierrez and Angel Locsin (Head and Shoulders shampoo)
Head and Shoulders is a U.S. brand of anti-dandruff shampoo. Starting from a family-oriented commercial featuring theGibbs family in the 90's, the brand moved on to featuring the some of the hottestlove teams of the season.
Take the ad featuring Angel and Richard.
Angel takes her seat beside Richardinside a bus. Confident of hair (thanks H&S!), she lays her headon Richard's shoulder (head and shoulder, get it?) and presumably dozes off. She wakes up at the endof the trip to find only Richard and herself on board. Angel asks Richard, who by now is attracted the dandruff-free Angel, if it's time to get offthe bus. Nope. And she gives us viewers a knowing wink as she resumes the head-and-shoulder moment.
ADVERTISEMENT - CONTINUE READING BELOW
Although no longer a love team, Angel and Richard stilllook good in the commercial, which probably sends fans daydreaming aboutthe two getting back together. Angel and Richard clicked as a love team during their Mulawin daysand the Head and Shoulders ad brings back memories. Oh well.
Gerald Anderson and Kim Chiu (Closeup toothpaste)
Closeup has featured many model-turned-actors since the 80's, delivering thesimple message that a smile with immaculate teeth and sweet breath brings people, especiallyboys and girls, together.
Recently, the toothpaste brand featured one of the newest, hottest love teams to date: Kim Chiu and Gerald Anderson. In ashort scene, Gerald hands Kim a bracelet and then, at the end, he kisses her.It's a simple ad, yes, but to the fans of Kimerald, another kiligmoment.
Showbiz celebs come and go, but commercials are here to stay. Just keep the fans and consumers happy with their idols telling them what's best.