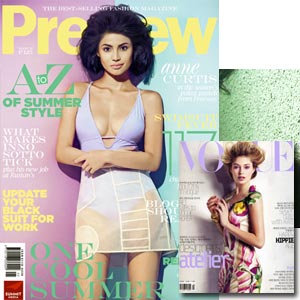 IMAGE 0
---
In thefirst few shots for the March cover of Preview magazine, cover girl AnneCurtishad her hair loose and volumized to channel old world sexy.However, Preview Creative Director Vince Uy found the hair and swimsuitcombination too "Baywatch" and had Anne's hair re-sculpted to introducea favorite trend in international magazines today.
Thehairstyle reminiscent of cotton candy is a current runway favorite and is evenshowcased in fashion editorials of the U.S. edition of Vogue and thecover of Vogue Korea. That Preview dared to take on suchavant-garde hairstyle for its cover only shows how Preview lives up toits name, giving Filipinos a sneak peek into the trends in the internationalfashion scene before these trends even make their way to local shores.
Withcotton-candy hair and swimsuits in the palest pastels, Anne's cover shoot wasinspired by everything sweet-a sweetness that Anne herself embodies. It isrefreshing to know that despite being one of the most talented actresses in hergeneration, Anne remains unaffected by her fame. Despite being a part of the2007 Preview Best-Dressed list, Anne admits that she still favors baggyclothes, denim shorts, flats and flip-flops on regular days. She is sincere inrevealing that she would wear tighter clothes only when she feels "payat".And Anne herself says, "I'm still a bugoy at heart. And yes, jologsako!"
Anne sitsdown with Preview to share how some of her dreams have recently becomerealities, such as taking on the challenging role of a cancer-stricken Celinein the second chapter of Maging Sino Ka Man and working on a Star Cinemamovie with Aga Muhlach, something she has wanted since she was ten years old.Some of her other life goals, which include traveling to Europe and seeing areal-life castle, have yet to be fulfilled, but Anne has faith that they willhappen in God's perfect time.
ADVERTISEMENT - CONTINUE READING BELOW
Faith issomething that Anne has a lot more of nowadays, since she became a Christianearly last year. It shows even in the way she approaches the issue about SamMilbycourting her the second time around. "I believe that it's nomistake what God brings us, and that He makes things beautiful in His own time.I think that's what He's doing now," explains Anne.
Preview Magazine is available in all leadingbookstores and magazine stands at P125 per copy.