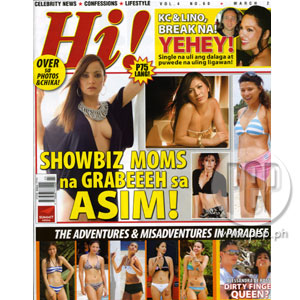 IMAGE 0
---
Hi! bids goodbye to its avid readers this March, as the summer season starts. Its final issue features summer-hot must-reads, like the stars' ideal vacation spots and Hi!'s top-ten list of celebrity M.I.L.F!
No, M.I.L.F. is not about rebels, it's "Mommies I Love to Fantasize." They're the celebrity moms who still have that Oomph! factor regardless oftheir full-time status. Compiled by professionalphotographers, magazine editors, art directors, and the average Juan, this listwill make you forget that the featured ladies are indeed mothers!
And then, check out some rare photos and captionsfrom the recent Nivea Celebrity Sports Event in Davao, with babes and hunks allhaving a good time under the sun!
Well, not all actually as this is the same event whereformer lovers Jeremy Marquez and Alex de Rossi reportedly created a stir amidst the enjoyment.
Also on this month's features is a unique compilation of national and international beauty queens who fell short of becoming ambassadors of goodwill.
Check out these hot features and more, get a copy of Hi!now! This last issue may just become a valuable collector's item.