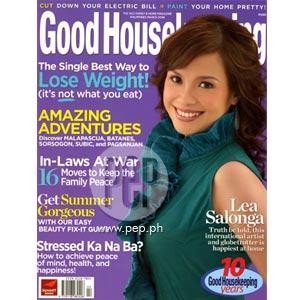 IMAGE 0
---
As a mother, Lea Salonga is not spared from the hassle of arranging trips with her 22-month old daughter Nicole. The international artist and certified globetrotter is considered an authority when it comes to teaching mothers how to plan for a trip when traveling with a baby or toddler in tow.
In the March 2008 issue of Good Housekeeping, Lea says that preparation is the key to having a safe and fun trip with your child.
"You think about your kid's needs above yours," Lea points out. "Like, do we have enough diapers? There's her milk and her toys. Do I have all her medication in case she has an allergy attack? She actually has more stuff than me when we travel. Usually my husband and I can share one suitcase, but she needs her own."
Lea is very excited about playing the lead role in the Broadway Asia Tour of Cinderella, which will run at the Cultural Center of the Philippines from July 29 to August 24.
"It's going to be an Asian tour, we'll be going to around China, Korea...but we'll kick off here in Manila."
The wife of businessman Robert Chien narrates how she came to the decision of moving back permanently to Manila. "We've been married for a little over a year, when my husband was asked to move to Manila to sort of headline a joint venture between the company he was working for and a company here. He has since decided to stay in Manila, and me being the wife, of course, must come."
With talent such as hers, Lea has no fear of missing out on opportunities in the international music and theater scene. In fact, the accomplished singer-thespian is more than willing to travel abroad should an offer come her way. By following her own rules for travel, Lea can rest assured that her unica hija will be happy and comfortable, as mother and daughter both satisfy their wanderlust.
ADVERTISEMENT - CONTINUE READING BELOW
Good Housekeeping is available in all leading bookstores and magazine stands at P100 per copy.