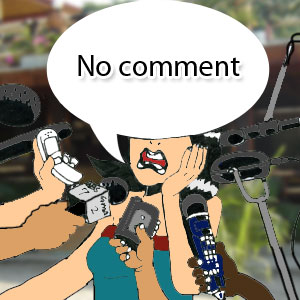 IMAGE 0
---
Fans always look forward to their favorite star's take on the news— controversial or not—about their lovelife, feuds, latest project, what-not. You check out thetabloids, tune in to a favorite showbiz talk show. You read or listen patiently, maybe imagining the kind of answer your fave is about to give. At the height of anticipation, s/hemouths these immortal words:
"No comment."
Poof! The moment is suddenly lost. You instantlyrealize that all you waited for was a cliché.Nonetheless, fans eagerly follow the story the next time around, even if the issue takes weeks.
Okay then. Why do our local artists resort to theseoverused answers and expressions?
For one, "No comment" has become a trend among our favorite celebrities. It's automatic—and safe. It keeps everyone fromlearning the real deal, which, of course, won't last long. It extendsthe star's air time and generates rumor-frenzy among fans and showbiz media. The triedand tested reply definitely still works. People automatically get the idea that the star is just not ready tosay anything and is trying to buy time.
Other noteworthy expressions, handed down from one celebrity toanother, really stick to memory. Scrolldown and find out The Most Used Showbiz Answers and Expressions.
Hindi kami and We're just friends. Showbiz relationshipscan either make or break an artist, especially for rising stars, so it's alwayssafe to utter such denials or oblique replies in order to test the waters on questions like, is their "buddingrelationship" is acceptable to the public?
The famous love teams of That's Entertainment had abused these lines. So said Polo Ravales recently when asked by the media if heand Jean Garcia were already an item.
Nandito lang ako para sa kanya. This answer has a lot ofuses. It can be a pledge of support for a fellow artist (whounfortunately got embroiled in a controversy), a promise to his/herbetter half or an assurance to an ex-lover.
ADVERTISEMENT - CONTINUE READING BELOW
Recently used by John Prats when asked about his statuswith Shaina Magdayao.
Walang third party. Whenever a relationship between acelebrity couple turns sour, this is the number one answer to speculation on why the lovebirds broke up.
Dennis Trillo said so when news broke out that heand Carlene were no longer a couple. When Christine Reyes' name came up,he used this answer.
We wanted to save the friendship. Probably not wanting tospill out the exact details on why a showbiz couple broke up, one of them or bothcan use this perfect answer.
Christian Bautista replied thus when asked why on earth he and fellow singer Rachelle Ann Go split.
I'll just cross the bridge when I get there and I'm notready yet. Usually, these answers fall under those sexy-themed questions, like whether a hot celebrity would ever pose for a men's magazine or star in a sexy film.You can also expect to hear this kind of answer on controversy-relatedquestions, like if an artist was ready to forgive someone, etc.
Jennylyn Mercado said that when asked if she'd everpose for a men's magazine. A few months afterwards, boom! She's on FHM's front page.
I'm not closing my doors. It's inevitable for some coming-of-age female artists to finally give in and pose for a men's magazine orstar in a sexy movie (rarely). Giving hints like the popular "I'm not closingmy doors" is great way to say that it is indeed possible—and certainly a bigboost to one's career—for that artist to take on the sexy route. It's a standard reply as well to questions of possible reconciliation in the midst of some quarrel, or afterwards.
Recently used by Aiko Melendez when asked if she'll everkiss and make up with Ara Mina.
ADVERTISEMENT - CONTINUE READING BELOW
Ayaw ko patulan. This answer is somewhat related to "No comment" but this one's got exasperation written all over it.Efforts made by "detractors" to bring in a certain star under the spotlight may or may not be the star's undoing.
Recently used by Gretchen Barretto. She never really didsubmit herself to intrigues.
At the end of the day. This is like saying, "I am right, just wait and see," except that the expression is subtler and it proves a saferway of saying that the star, based on past experiences or relevant situations,can measure and see if things are going south or not.
So went Pops Fernandez's expression about MartinNievera's continued comments on television.
Ibalato niyo na lang sa amin. This is the mostpolite way of saying, "Give me a break." It's commonly used by stars who just want to be leftalone for the time being. The answer poses absolutely no risk and is actuallysafer than "No comment."
Recently used by Sharon Cuneta on rumors that she and KikoPangilinan were headed for splitsville.
No Comment. Ah, yes. This one's probably the mother of allconvenient showbiz answers—simple to say, with nearly no effort and reponsibility for the celebrityconcerned. But, of course, as evasion or if mishandled, "No comment" can do theexact opposite of quieting the buzz. Think of Dennis Trillo on the CharleneAguilar-Christine Reyes word war.
Paul Soriano's "No comment" last year about CamillePrats's pregnancy nearly sparked a fight between Paul and John Prats who found it uncalled for and misleading.