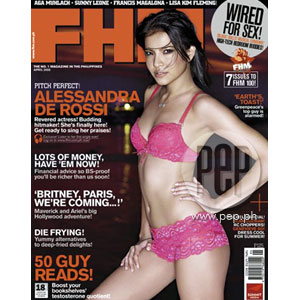 IMAGE 0
---
WhenFHMasked what she loved more than acting, Alessandrade Rossi surprisingly answered, "Masmahal ko ang music." But to this, she quickly adds, "Kaya lang, mas may napatunayan na ako sa acting." Whowould have thought that this award-winning actress was also blessed with talentin music?
Soexcited is she with her newfound career in music that she has decided to debut herfirst single, a cover of the ChristopherCross song Sailing, through FHM!
This April, Alessandra de Rossifinally graces the cover of the country's undisputed number one men's magazineafter years of waiting, and debuts as a recording artist simultaneously.
Thefirst time Alessandra decided to do an FHMcover four years ago, she backed out two days before the shoot. When askedabout her last-minute stand not to go through with it, Alessandra shrugs itoff. "Ayoko lang talaga. I [did notwant to be seen as] a sex symbol," she says about her decision then. But whatmade her decide to pose for FHM now?
ADVERTISEMENT - CONTINUE READING BELOW
Alessandraeagerly goes on about her new venture as a musician, and how launching hermusic career in FHM seems to be theperfect strategy. "May mas bobongga pa basa FHM? May magazine na, mayalbum pa!," she excitedly reveals.
Alessandraalso talks about her first single, Sailing,which came about one day while she and her best friend were playing around withthe computer. After hearing the song on the radio, they decided to do achill-out remix of the song, with Alessandra on the vocal reins. "Pag wala kaming magawa, we make music.We actually have 11 songs, lahatoriginal except for Sailing."
Askedhow best to describe her experience posing for FHM for the first time, Alessandra points to her first single. "Sabi nga sa lyrics, 'It's not far down to paradise/if the wind isright you can sail away'," she answers coyly.
ADVERTISEMENT - CONTINUE READING BELOW
Listento Alessandra's first single,
Sailing
,now available for download at
FHM
.com.ph.To vote for Alessandra de Rossi in the
FHM 100 Sexiest Women in the World
2008
poll, key in FHM100 [space] AlessandraDe Rossi, and send to 2948 for all networks. Grab a copy of the April issue of
FHM
to find out more, now available atmagazine stands and bookstores for only P125 per copy.