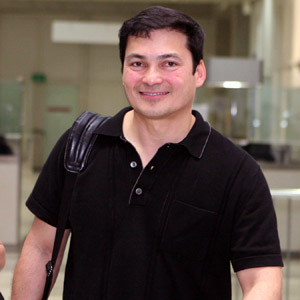 IMAGE 0
---
It has been reported that former matinee idol GabbyConcepcion will return to the Philippines after 13 years. KC Concepcion,Gabby's daughter with ex-wife Sharon Cuneta, confirmed the report.
But as to the exact date of Gabby's arrival, KC told thepress during the media junket of her ABS-CBN show I Am KC last Thursday, March 28, that her fatherwanted to make it a "surprise." KC made it clear, however, that the mainpurpose of her father's return is to visit her paternal grandfather, RollyConcepcion, who has a heart condition.
Gabby's homecoming will also coincide with KC's 23rdbirthday on April 7.
There were reports that Gabby will arrive on April 1, whileothers say the former Regal baby will come home on April 4.
PEP (Philippine Entertainment Portal) got a reportyesterday, March 29, that Gabby will arrive today, March 30, via Philippine AirLines, although the exact time is not clear. Also, earlier today, we got a text message from anABS-CBN insider saying that Gabby has already arrived and that he will make hisshowbiz comeback as a Kapamilya by appearing on The Buzz this afternoon for afull-length interview with Boy Abunda.
ADVERTISEMENT - CONTINUE READING BELOW
PEP later found out that Gabby arrived at around 3 AM today.
Months before Gabby's return to the Philippines, it wasreported that he will make his showbiz comeback through a movie that will beco-produced by GMA Films, with Jolina Magdangal as his co-star. During Jolina'sbirthday celebration on SOP last November 2007, Gabby greeted the multimediastar through an overseas call. Gabby is now based in San Francisco, California working as a real-estate agent.
Gabby's comeback film was supposed to be I.T.A.L.Y., which will be shot entirely in Italy and other parts of Europe on a cruise ship. Wheneveryone thought that everything was okay, a few weeks before the shooting would start, Gabby decided not to do the film.
It is not clear why the former actor backed out, although Jolina revealed to the entertainment press during the pressconof Pinoy Idol last March 28 that Gabby was not happy with the script. When she asked if he was still willing to do the movie if the necessary changes were done to suit his taste, Gabby didnot answer back.
ADVERTISEMENT - CONTINUE READING BELOW
Dennis Trillo has been chosen to replace Gabby.

GMA Films also reportedly gave Gabby a downpayment for I.T.A.L.Y. and he signed a contract binding him to make his first movieafter 13 years with the film arm of GMA-7.
But Gabby signed the contract with GMA Films when he did notyet have an agent/talent manager. Apparently, he got the services of filmproducer Mrs. Rose Flaminiano of FLT Films to negotiate his offers from thePhilippines. Gabby was accompanied by Mommy Rosefrom the U.S.
Now that Gabby will make his first appearance in ABS-CBN, wherehis daughter and ex-wife are premiere talents, does this mean that his firstproject will also be with the Kapamilya network? What about his contract withGMA Films?
Hopefully, these questions will be answered by Gabby on his first live interview after 13 years.