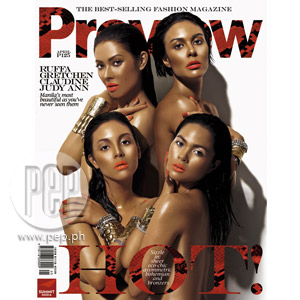 IMAGE 0
---
Ruffa. Gretchen. Judy Ann. Claudine. Like the superstars that they are, their first names are enough for people to know exactly who you're talking about. Their lives have been public property for more than a decade, and people simply assume to know everything about them.
But as the April 2008 issue of Preview Magazine shows, there is much the public doesn't know about its four cover girls Ruffa Gutierrez, Gretchen Barretto, Judy Ann Santos, and Claudine Barretto. Who better to reveal a more intimate side to these actresses than the people who know them best?
"Judy Ann has such an enigmatic personality, and there is just so much interest generated by her mere presence," Ryan Agoncillo tells Preview as he relates how they had once traveled with a group of foreigners who had no clue to Judy Ann's celebrity stature. "By the end of the day, she was their favorite. They'd be excited to see her, speak to her. They were drawn to her for other reasons, and not because of who she is." Clearly, there is so much more to Judy Ann outside of her work, and people are only beginning to see it.
There are many other facets to their lives that the audience is not privy to. As Judy Ann explores the field of culinary arts and works toward her goal of being a professionally trained chef with a national certification, Raymond Gutierrez reveals his sister Ruffa's latest plans.
"Her latest idea is to have her own line of clothing or makeup, and while she hasn't decided yet, she knows that she needs a background in business," he says. "So aside from juggling her duties as a mom and actress, she's also attending classes in Fashion Merchandising at the School of Fashion and the Arts just to meet that goal."
ADVERTISEMENT - CONTINUE READING BELOW
Because of her glamorous life, it becomes easy to forget that Ruffa is a single mother who works very hard for the future of her daughters. "Ateworks hard for everything, and it's very admirable," Raymond asserts. "Not many people can do what she does."
Indeed, not many people can deal with the life of a celebrity. For all its perks, fame also has its downsides. Out of all the colorful experiences Claudine has had in showbiz, older sister Gretchen recalls one that stands out. "I think one moment in her life that truly defined Claudine—who she really is and what she's really all about—is the time that Rico Yan [her former boyfriend] died."
Many lives were changed in that instant, including Claudine's. Gretchen calls it a "make-or-break moment" which her sister has surpassed. "She has long made peace with the Yan family and I'm glad," Gretchen says, adding that she herself has made peace with them as well. "She loved them, and to this day, still loves them."
Such a frank and honest statement is something that people have come to expect from Gretchen. Makeup artist Patrick Rosas tells Preview that while people may have formed their own opinions about her, he knows Gretchen to be sincere and a fiercely loyal friend.
"With Gretchen," he says, "what you see outside is the same as what's inside." And what's on the outside is truly beautiful, a face that is perfectly symmetrical and even looks best with almost no makeup.
ADVERTISEMENT - CONTINUE READING BELOW
As Patrick says, "She's so beautiful that I almost don't want to tamper with it. This probably explains why Gretchen looks best au naturel, which also suits her just fine as she hates wearing makeup."
Gretchen at her most natural is someone that enjoys sinigang and adobo, and likes to jam with Patrick in the sing-along. "Gretchen is a case of disparate notions," he says. "Women either hate her or they'd want to be like her."
Love them or hate them, Ruffa, Gretchen, Claudine, and Judy Ann are still the biggest stars of their time. See them through the eyes of the people closest to them in the April issue of Preview Magazine, a sizzling summer issue now available in all leading bookstores and magazine stands.