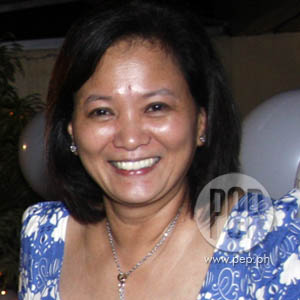 IMAGE 0
---
TV executive Malou Choa-Fagar became the latest victim of malicious text messages after a disgruntled showbiz writer reportedly unleashed a succession of SMS (short message service) carrying the words: "Malou Choa-Fagar is dead."
The root of the incident reportedly transpired when Malou—who is the senior vice president for production and chief operating officer of TAPE Inc.—refused to grant access to two reporters who showed up unannounced at the shooting of the highly-anticipated Dolphy-Vic Sotto movie tentatively titled Dobol Trobol.
Malou politely assured the two writers that their names would be forwarded to the film's publicists once the promo campaign starts rolling; meaning they'll be invited for presscons and other promo activities lined up to promote the movie. The strictness being implemented this early by the producers was said to be in adherence with the publicity program they drafted for the project.
Slighted by what they thought was a deliberate snub, the two writers then set out to discredit the movie and the people behind it by coming out with negative write-ups. As a counter-attack, Malou sent out an order barring the two at Eat Bulaga! which is being produced by TAPE Inc. This move obviously irked one of the two writers even more and thus came the malicious text message. Relatives and close friends of Malou reportedly received the morbid message at early dawn, triggering panic and confusion.
ADVERTISEMENT - CONTINUE READING BELOW
Because of the incident, a columnist-editor recommended that Malou file an unjust vexation complaint against the reporter.