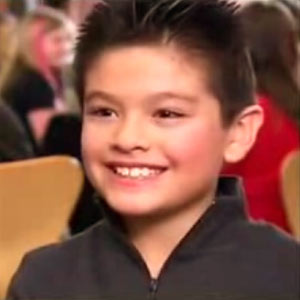 IMAGE 0
---
Charlie Green, a 10-year old half-Filipino, sang his way tothe next round of Britain's Got Talent, a talent search created by American Idol judge Simon Cowell, who also sits in the panel of judges with journalist Piers Morgan and actress AmandaHoldren.
During the program's second week of live auditions inBirmingham, Charlie gave a spirited rendition of Frank Sinatra's 1966hit record, "Summer Wind." He was cool and composed throughout the entireperformance, even doing some old-fashioned jazz scatting and finger snapping.
After he sang, the audience gave Charlie a standing ovationand chanted his name.
Piers, who called the boy "Old Charlie," was entertained by both his singing and dancing. Amanda went as far as giving a bold forecast:"I predict, you [Charlie] could win in this show."
Even the panel's harshest critic, American Idol judge Simon Cowell, had nothing but praise: "Charlie, I think you're a little star! I really, really like you!"
ADVERTISEMENT - CONTINUE READING BELOW
In the end, Charlie got three "Yes" votes from the judges,and is now set to move on to the next round of competition.
Waiting for him at the backstage were his Filipina mom Cecilia Sumargo— who hails from Dumajug, Cebu—andBritish dad, who both gave him a warm hug. When asked about his reactionto the judges' comments, Charlie said, obviously starstruck, "They're really good!They were better than I thought!"
Charlie is the second Filipino to make waves in the British talent search. First was the 32-year old single mom and club singerMadonna Decena, who auditioned in Manchester, and wowed the judges with herpowerful rendition of Whitney Houston's "I Will Always Love You."