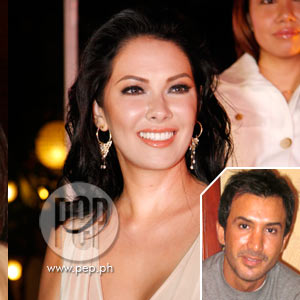 IMAGE 0
---
Last year, the showbiz industry turned all eyes and ears onformer beauty queen Ruffa Gutierrez's revelation that she and Turkish husbandYilmaz Bektas decided to file for divorce.
Through Ricky Lo's column published on May 8, 2007, Ruffaexplained that "cultural differences" led to their breakup. The TV host-actress further said, "Honestly,we tried very hard to make our marriage work, but then..."
Ruffa also clarified during the phone interview with theshowbiz columnist, "There's no other woman."
Later on, in a press statement sent to PEP (PhilippineEntertainment Portal), a request was addressed to the media and thepublic. It read: "Ruffa and Yilmaz willremain committed parents and continue to be friends as they live their separatelives. They ask for everyone's understanding and consideration in respectingthe family's privacy during this most difficult time. No further statementswill be issued." (Click here to read related article)
Ruffa and Yilmaz had their fancy wedding on March 25,2003. Their relationship as husband andwife produced two lovely young girls named Lorin and Venice.
Despite the short explanation and the request to respecttheir privacy, the public's desire to know the real reason of their breakup wasstrong, and so the issue went on and became the hottest in showbiz for morethan a month.
RUFFA'S SHOCKING REVELATION. A few daysafter the couple released their joint statement, Yilmaz had a phone interviewwith Startalk (May 12, 2007). Ruffa's husband denied that "cultural difference" was the reason theirmarriage ended. According to Yilmaz,the "professional career" and "extended stay" of Ruffa were the real reasonsthey split up.
ADVERTISEMENT - CONTINUE READING BELOW
The following day, Ruffa appeared in The Buzz for aninterview about Yilmaz's statement in Startalk. At first the TV host-actress only had goodwords for her estranged husband. (Click here to read related article)
In fact, she even described him, "Si Yilmaz 'yong tipo ngtatay na concerned siya all the time, you know—physically, emotionally, mentally.Iyon talaga, nandiyan siya para sa mga anak ko. He would change the diapers, hewould sing to them, he would call to them all the time. He is a good father."
However, the mood changed when The Buzz host, BoyAbunda, asked Ruffa, "Ididiretso ko na ang tanong. Sinasaktan ka ba? Binubugbogka ba ni Yilmaz?" The poor actress wasnot able to answer the question because her tears started to fall.
After a while, Ruffa explained that she tried really hard tosave seven years of marriage. "Godknows I tried. You know, kungpagmamahal lang, puwede akong bumalik, pero may prinsipyo rin ako."
Ruffa's mother Annabelle Rama was also in tears when she wasinterviewed in Showbiz Central. The talent manager vaguely explained the to public why she advised herdaughter not to go back to Istabul. "Kaming dalawa lang ni Ruffa ang nakakaalamng reason kung bakit ayaw ko na siyang pabalikin sa Istanbul."
She added, "Sabi ko kay Ruffa, 'Sa nangyari sa'yo saIstanbul, na pumunta ka na dito, bakit kailangan ka pang bumalik? Huwag ka nang bumalik."
"IT'S OVER." Inspite of their appeal for privacy, what happened next was totally theopposite-the public asked for more of the Ruffa-Yilmaz story.
ADVERTISEMENT - CONTINUE READING BELOW
The couple and even Ruffa's mother became regular guests inweekend talk shows to defend themselves in a word war. Different issues emerged. For one, Yilmaz called his estranged wife "Brutus" while raising theissue of Ruffa's alleged marriage to a certain Richard Daloia.
Yilmaz, who was in Istanbul, said that a friend informed himabout Ruffa's announcement of their separation. And when he knew about it, Yilmaz said in an interview withABS-CBN News, "After that I think [her] name have to be traitor and I'm callingher name now Brutus." Yilmaz was referring to Shakespeare's play JuliusCaesar wherein the assassinatedRoman emperor's best friend betrays him.
Yilmaz expressed anger at Ruffa's statements. He said, "This person [Ruffa] coming out onthe television saying I don't wanna be with him. It's enough. I don't wannasay anything and I don't wanna be with this person anymore." (Click here toread related article)
ANOTHER MARRIAGE? From the first time the name cameout in the news, Richard Daloia became entangled in the word war. He was said to be the first husband of theformer beauty queen, whose real name is Sharmaine Ruffa Gutierrez. Theiralleged marriage reportedly happened in Las Vegas, Nevada.
Ruffa indirectly admitted her alleged pastrelationship. She pleaded with themedia, however, not to talk about itanymore, especially when PEP was able to track down Daloia's whereabouts. She explained, "Sana naman, huwag na natinghalungkatin pa yung nakaraan. Huwag nanating buhayin pa yung matagal nang patay katulad ng mga nangyari sa Las Vegas,katulad ng mga ex ko. Huwag na natinsilang buhayin!
ADVERTISEMENT - CONTINUE READING BELOW
"Parang respeto na lang natin kay Yilmaz, respeto na langnatin sa mga anak ko. You know, huwagniyo nang hagilapin yung mga nakalimutan na sa mundong ito. Let's just stick with the present and looktowards the future.
"Anyway, lumabas na, e! We just came out with the truth. So, huwag naman sana nating hunting-in yung mga tao." (Click here toread related article)
Yilmaz asked his lawyer to investigate the alleged firstmarriage of his estranged wife. After his lawyer presented to him theinformation they gathered, Yilmaz could only say, "It's over. It's closed." (Click here to read relatedarticle)
In a different interview, Yilmaz threatened Ruffa that hewould file a case against her. "I'mgonna open, as soon as possible, one case. I'm gonna sue her because when she got married with me and during thepresent day, May 25, [2003], still she's married, and she's against to myfamily, and she against to her religion, and my religion, too, also." (Clickhere to read related article)
Out of his anger, he also said the most memorable quote inthis very controversial separation: "Lady Sharmaine Gutierrez, whatever it is you deserve, that will [begiven] to you. I find you in the garbage and I put you back in the garbage. Butstill, I will find. I'm not gonna stop whatever I will gonna said. I'm gonnafollow my mind, and your Mom and you, and this...I don't know the name yet, I'mgonna find out. I will tell you, each moment has its consequences. My words arenot just for you, for your Mom, and whoever he's hiding himself, he's safe. I'mnot gonna speak so much, but I will gonna move and take further actions."
ADVERTISEMENT - CONTINUE READING BELOW
MONTHS AFTER... RECONCILIATION. Less than two months after this controversy,Yilmaz surprised everyone in showbiz when he came to the Philippines to visithis two daughters, Lorin and Venice, and to fix their marriage. (Click here to read related article)
In the couple's interview with The Buzz, Yilmaz said,"She send to me a message and she told me I have to come to pick them up. Thosewere the magic words."
Ruffa explained, "Well, he kept saying, 'Come meet me here.Come meet me there.' I think it's just proper that he's the man and he shouldcome to me in the Philippines."
The couple also said "I love you" to each other.
"I love her," saidYilmaz. "It's only reason why I'mbreathing because of my wife and my two kids."
Ruffa answered to him, "I love you and you have tochange. Be sweet and kind."
Some thought that the couple's separation had a happyending with this reconciliation. Unfortunately, Ruffa and Yilmaz seemed to have moved on with their ownlives. Ruffa is now enjoying her lifeas an actress and a TV host, while Yilmaz was last reported dating 2006 MissUniverse Zuleyka Mendoza. (Click
here
to read related article)