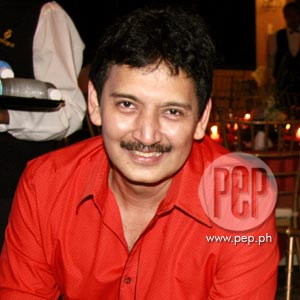 IMAGE 0
---

They say that in death, onebecomes bigger than life. For all of his achievements as an actor and acertified top draw, action superstar Rudy Fernandez undoubtedly became morethan just a mere copy of his silhouette image.
Diagnosed with periampullarycancer two years ago before his 54th birthday, Daboy—as colleaguesand admirers fondly call him—bravely faced the dreaded disease with much hopeand laughter. His courage in dealing with his situation was simply inspiring,to the extent that it made him a certified action hero in real life.
Daboy is a unique individual andhe is remembered for a number of reasons. But days after his passing last June7, the statements coming from family members and close friends painted aconcrete description of Rudy as a person.
PEP (Philippine EntertainmentPortal) pays homage to one of the most celebrated actors in the history ofPhilippine Cinema by listing down his legacy both as an actor and a person.


AWARD WINNING ACTOR. Witha slew of movies tucked under his belt, Daboy undoubtedly was considered as oneof the finest actors in the industry. It is rare for an actor to possess bothgrit and sensitivity—Rudy had both.
Former President JosephEstrada—who himself was a popular action star before his foray intopolitics—once cited Rudy as a possible successor to the throne of other actiongreats like Fernando Poe Jr.
Daboy won a FAMAS award in 1984for Batuigas... Pasukin si Waway and another one in 1988 for VictorCorpuz. Daboy also bagged the Film Academy of the Philippines (FAP) BestActor plum for Batuigas, the same year he notched the FAMAS trophy.
ADVERTISEMENT - CONTINUE READING BELOW
Slowed down by cancer, which consequently put his showbizcareer on hold, Daboy was accorded the Fernando Poe Jr. Memorial Award in the2007 FAMAS for his contribution to the local movie industry. Earlier this year,The Philippine Movie Press Club (PMPC) awarded Daboy the 2008 Ulirang ArtistaLifetime Achievement Award during the 24th Star Awards for Movies.The FAP likewise bestowed on Rudy the FPJ Lifetime Achievement Award.
ACTION PRINCE. Rudy started out doing teen flicksbefore he landed his breakthrough film Bitayin si Baby Ama in 1976. Dueto the success of the said film, Rudy went on to do action movies and neverlooked back.
After Bitayin si Baby Ama, Rudy did a number ofaction flicks like Wanted: Agad-Agad (1976), Alfredo Lim: Sa Kamay ngIbabaw (1977), Bilangguan: Walang Rehas (1978), Teteng Salonga ngTondo (1978), Pader at Rehas (1980), Pepeng Shotgun (1981), Ulong Gapo (1981), Get My Son Dead or Alive (1982), Kumander ElpidioPaclibar (1982), Sumuko Ka Na Ronquillo (1983), Kumusta Ka NaHudas? (1983), Alex San Diego: Alyas Wanted (1983), Kunin Mo AngUlo ni Magtanggol (1983), Idol (1984), Sarge (1984), TulisangDagat (1984), Kriminal (1984) and Pasukuin si Waway(1984), among a handful of others.
His bankability as an action hero was further cementedwhen he did a biopic of popular Baguio-based police officer Bobby Ortega in1992. The movie Markang Bungo made the famous line, "Walang personalan,trabaho lang." A sequel, Iligpit si Bobby Ortega, Markang Bungo 2, wasshown in 1995.
Portraying real-life characters had always been Daboy'sforte. In 1987, he took on the role of Victor Corpuz. 1991 saw Rudy portrayingthe life of controversial political figure Vincent "Bingbong" Crisologo. Otherbiopics of Rudy include Lagalag: The Eddie Fernandez Story (1994)and The Ping Lacson Story (2000). Daboy also depicted the infamousKuratong Baleleng story in 1995.
ADVERTISEMENT - CONTINUE READING BELOW
Rudy's last big screen appearances was in 2002 when he didDiskarte with Ara Mina as leading lady and Hula Mo, Huli Ko withsexy-comedienne Rufa Mae Quinto.
THE FAMILY MAN. Rudy, like all of us, was not asaint. And even his wife is careful not to exaggerate all the adulations andhero worship her husband is now getting. Just like any normal couple, Rudy andLorna went through various obstacles that tested their commitment to oneanother.
But unlike other couples, they survived the odds rightuntil Daboy's final breath.
"Alam ko kasi na... Sigurobasta't ang alam ko, ako yung tao na nasa puso niya. Ako yung taong minahalniya. Sinasabi nga niya, 'Ikaw ang nasa puso ko,' most of the time. And yun dinsiguro ang puwede kong... At alam niya sa puso niya na siguro maraming pagkakataonna may nangyayari sa buhay ng mag-asawa na dadaanan kayo. Pero sa huli, sahuling sandali, alam namin pareho na nasa puso namin ang bawa't isa,"noted Lorna.
Rudy's health dilemma brought himcloser to his wife and sons. Ralph said that since being diagnosed withperiampullary cancer, his conversations with his dad took on a more serious, ifnot, deeper tone.
"Parang ever since nung nagkaroon na siya ng cancer,'yong conversations namin parang may ibang lalim na 'yong mga sinasabi niya,mabigat na parang advise na, 'Tandaan ninyo na 'tong sinasabi ko.' Pero bago pa'to mag-worse 'yong condition niya," shared Ralph.
Rudy's first son, Mark AnthonyFernandez, with ex-partner Alma Moreno was fortunate enough that he was givensubstantial time to "re-discover" his relationship with his dad. In the end,Mark's difficult growing up years looked very much behind him. Rudy, as told byAlma, couldn't have been happier for his firstborn.
ADVERTISEMENT - CONTINUE READING BELOW
"Actually, bago pumunta ng States si Daboy at siLorna para magpagamot, matagal kaming nagkausap tungkol kay Mark. Natutuwa nasiya kay Mark, sa career ni Mark. Mas matipid daw siya at mas makunat na daw.Yung mga ganun! Kaya tawa kami nang tawa," recalled Alma.
While Daboy bravely accepted hisfate and felt ready to face God, one interview showed the typical father sideof him.
"Paminsan-minsan, iniisip ko,paano kaya ang mga anak ko, ang mga apo ko, kung wala na ko?" he wondered, hisvoice trembling. Daboy regained his composure and quickly thought of the brightside, saying proudly of his family, "Tingin ko, kaya nila."
PEACEMAKER. "Siya anggumagawa ng paraan para magkaayos. Ayaw niya ng may away sa aming mgamagbabarkada," actor and Senator Jinggoy Estrada said about Rudy.
Serving as the glue that keepsthe barkadahan intact, Daboy would always and willingly assume the role ofpeacemaker to his friends through their occasional bickering. Having friendswho belong to two contrasting political parties, namely Senators JinggoyEstrada and Bong Revilla, Daboy was the neutral ground that kept thingsbalanced and cool.
Even when he was alreadypreoccupied with battling cancer and undergoing treatment, his closest friendsattest that he never gave up on his role as a peacemaker.
Much has been said about Rudy'spacifying nature. But that characteristic shone brighter than ever after hispassing. Talking about Daboy, Bong mentioned, "'Yun ang bridge namin, e... tuwingnagkakaroon kami ng sama ng loob... tuwing nagkakatampuhan kami, si Daboy talagaang tulay namin." To which fellow friend Phillip Salvador shot back goodnaturedly at Bong, "Kapag nagkaganoon pa kayong dalawa, e, baka mamaya,bumangon ang kaibigan natin. Sasabihin sa inyo, tumigil na nga kayong dalawa."
ADVERTISEMENT - CONTINUE READING BELOW
Rudy's desire to always maintaina harmonious environment can be traced back to his days as president of theKapisanan ng mga Artista ng Pelikulang Pilipino (KAPP). Described by friendsand co-workers as an organized leader, Daboy, they all shared, valued peace andgood camaraderie first and foremost.
SENSE OF HUMOR. During thetime he was struggling with cancer, Rudy never lost his most endearing trait tomany of his friends: sense of humor.
"Siguro, kaya maraming nagmamahalsa kanya dahil palagi siyang nandiyan to lift you up. His sense of humor,napakaganda. Yung pagbibiro niya. Yung laughter niya, siguro yun ang hindinamin malilimutan dahil yung tawa niya, mahahawa ka, e," recalled wife LornaTolentino.
If there's one consistentdescription of Daboy that comes up from both friends and casual acquaintances,it was his ability to laugh and make others laugh as well.
"Pilyo pa rin," friend andmanager Lolit Solis told PEP (Philippine Entertainment Portal) when asked ifcancer diminished Daboy's penchant for fun.
Manay Lolit further added: "Lungkot na lungkot nakayong dalawa, dun nakatingin sa kanya dahil iniisip niyo 'Kawawa naman siDaboy.' Nakukuha pa niyang magbiro. Ano ba 'to? Hindi mo tuloy alam kungtalagang nasasaktan o ano dahil talagang nandun pa rin 'yong pagbibiro niya."
During the time his body was succumbing to the disease,Daboy was very firm in imposing one rule to both friends and relatives. "Walangiiyak," Lorna revealed. Everyone close to Rudy abided by his rule.
Daboy's friend dating back to his Sampaguita days RomyBelen shared, "Kung gusto mong umiyak, doon ka sa banyo," he told PEP(Philippine Entertainment Portal) on the first day of the action hero's wake,"kasi ayaw niya talagang makikitang umiiyak ka."
ADVERTISEMENT - CONTINUE READING BELOW
As Lorna confessed in her interviews, that's exactly whatshe did, weep quietly while taking a shower, whenever she felt overwhelmed byher husband's suffering.
THE FIGHTER. Originally,doctors gave Daboy only six months to live. But the fighter in him, which manythought was only in the movies, came through and for a time defied the medical prognosis.
In an interview with veteranentertainment columnist Ricky Lo, Rudy admitted going through a period ofdepression when he learned about his condition. But that didn't last for long.Picking up his broken spirit, Rudy soldiered on, tried various treatments and remained positive in the face of thelife threatening disease.
Even his friends couldn't helpbut admire his courageous outlook. "Wala akong nakitang taong napaka-positivekundi 'yang si Daboy. Ibang klase ýan. Ibang klaseng magbigay ng hope ýan,"said good friend Phillip Salvador.
Another good friend, BongRevilla, shared that when Rudy arrived with Lorna Tolentino at the airportafter their futile U.S. trip, Daboy refused to use a wheelchair.
"Well, up to the last minute, siDaboy yung tipong hindi niya ipaparamdam sa 'yo na nanghihina na siya. Siya yungtipong, 'lalaban ako up to the last' ganun siya," described Bong.
Daboy's strong will unfortunatelyproved to be no match against cancer. And on June 7, Rudy's fighting heartfinally relented. But even on the cusp of death, Daboy still managed toslightly lift his head and say, "I love you" to his beloved wife.
The final stand for a life welllived.
ADVERTISEMENT - CONTINUE READING BELOW