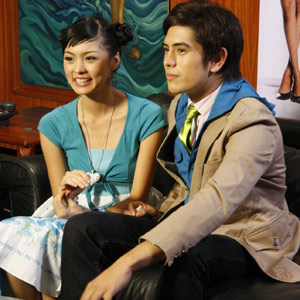 IMAGE 0
---

The Philippine version of My Girl starring Kim Chiuand Gerald Anderson is starting to gain a strong following. To prove this, the past mall shows of MyGirl cast members were well-received. Fans waited patiently to see theirfavorite stars in person and get a chance to take pictures with them.
In their first mall show at the Sta. Lucia Mall, the publicwarmly welcomed and greeted the cast members with screams of admirationand support. The show holds the record of having the largest attendance in thesaid mall.
Last Sunday, June 8, at SM Muntinlupa, the response of thecrowd was the same. This was one of the biggest mall shows celebrated at thevenue.
This Saturday and Sunday, the cast of My Girl willonce again invade two malls. On June 14, the whole gang will be in SM Clark andon the following day, June 15, they will be in SM Sucat. Show starts at 5:30p.m.
Join Kim, Gerald, Enchong Dee, Niña Jose, Regine Tolentino,David Chua and Alex Gonzaga as they bring joy to My Girl fanatics. Therewill be an autograph-signing for those who will buy the My Girlsoundtrack produced by Star Records and ASAP Music.