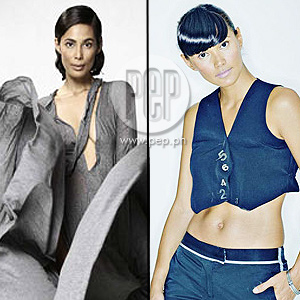 IMAGE 0
---

From their "contradictory" dress codes in the pastyears—funky formal, neo-vintage, rock chic, and retro futuristic—Preview now asks their guests to wear"green" on their annual Best Dressed Party.
Preview'seditor-in-chief Pauline Juan said that embracing nature's color in the fashionworld is not really surprising.
She explained in an interview with PEP (PhilippineEntertainment Portal), "It stemmed from a longer report on going green that wedid in the April issue this year. Themain thesis of that is it's really for hard if you're really a fashion personto go green.
"The very essence of fashion goes against being greenbecause you always want something new. So, it's always to consume, to buy more, more, 'tapos kapag old na siya,di ba, hanap ka ng something new or bigger, brighter. If you're totally into green it deflates your sources.
"We wanted to challenge our readers and our guests to applythat advocacy to their wardrobe or to their outfits for this year's bestdressed."
In adapting the worldwide advocacy as their theme in thisfashion event, Pauline further explained, "We figured that this [theme] is pretty much the oxymoron initself. So, parang how you wouldtranslate green into your outfit for the ball. Are you going to use sustainable material—will you do it to carbonfootprints, meaning everything local, hindi masyadong maaksaya; it traveled toget to you? Are you going to use it in terms of recycling?"
As part of the magazine's tradition, its July 2008 issuewill feature once again ten prominent personalities in the fashion industrywhom they consider the Best Dressed in 2008.
Pauline said that they also challenge these Best Dressedpersons to Go Green, like the guests, in the upcoming ball.
PEP asked Pauline how Previewchose the Best Dressed this year. She said,"Actually, each of the girls that we have, we choose based on really theirstyle. What we also wanna do is have agroup of girls that really represent different kinds of styles."
ADVERTISEMENT - CONTINUE READING BELOW
Here are the 10 Best Dressed in 2008. Two of them are also well-known in the showbizindustry.
Angel Aquino. Shewill be the cover girl for Preview's July 2008 issue. Pauline narratedthat, as the staff was reviewing their "Best Dressed" list, they found that theUs Girls host was not included. "'Wala din si Angel. Oh, no!' Parang, 'Hindi puwede!'" After all, Angel Aquino has been in the BestDressed list in the past.
The fashion magazine editor says that Angel deserves to beon the list, "Primarily because of the easy, relaxed style of dressing."
This is exactly how Angel described her personal style inclothing. The 35-year-old TV host-modelsaid in an interview with Preview, "[My personal style] is simple, easy,and basic with some effort to be stylish and updated."
Aside from US Girls,Angel hosts Studio 23'stravel and food show titled Tablescapes. She will join Judy Ann Santos in the teleserye Humiling Ako saLangit, which will start airing in September.
Tweetie De Leon-Gonzalez. In showbiz, she was popularly known as Faye in the early '90svia the defunct TV series Okay Ka Fairy Ko. But in the fashion world, she is hailed as the country's mostfamous supermodel.
In an interview with Preview, Tweetie confessed,"Actually, I never was into fashion. Itjust so happened that I made a career out of it—and in the process learned toappreciate style workmanship, and the creativity that goes into each piece."
The fashion model, who's also a jewel designer, became partof this year's Best Dressed because "Tweetie is more classical but is also onthe sporty side, being the endorser of Nike," says Pauline.
Preview also wrote, "This woman can put such apolished, sophisticated flair to the simplest, most basic pieces."
ADVERTISEMENT - CONTINUE READING BELOW
How does she choose her outfits?
"I choose my outfit depending on the weather, and my mood,"answered Tweetie. "I'm dressedcasually, usually in a basic tee paired with slacks, played up with my favoriteIce jewelry."
Tweetie owns the jewelry shop called Ice, which has storesin Rustan's Essences in Makati, Shangri-La Plaza, and Alabang.
Isabelle Daza. IsabelleDaza is linked to showbiz through her mother Gloria Diaz, Miss Universe1969. She also the current face of theclothing brand Human. (Click here to read related article)
Belle (her more popular name) is the youngest among thechosen Best Dressed this year. Previewincluded her in the list because she represents the younger generation.
"Her take on putting together her clothes is very fresh,very age-appropriate—wearing short shorts na hindi naman lahat sa atinnakakasuot," said Pauline.
"And she also has a lot of stuff from her mom, which arerecycled from the '70s, di ba? So,that's interesting, you know, if you put something vintage with something now—it makes her a very unique kind oflook."
Belle admitted this when she was interviewed by Preview. She said, "I get a lot of hand-me-downs frommy mom. She gave me this feathery top,which is like 25 years old—very delicate and daring. She tells me how fashionable she was during her time."
Katrina Lobregat. From celebrity figures, the next Best Dressed is a lady whose work isclosely related to fashion. Katrina Lobregatis a fashion buyer for Rustan's Department Store's Resortwear, Ladies ImportedShoes and Bags, and soon, Children's High Street.
When asked to describe Katrina, Preview editor PaulieJuan replied, "Her usual style, she's likes going to beach kasi and likes watersports so she's really, really, very resort, very laid back na glamour."
As Katrina herself told Preview, "I think I was madeto dress for the tropics. I'm much morecomfortable dressing up for warm, uncontrived, relaxed environment."
ADVERTISEMENT - CONTINUE READING BELOW
Katrina said that her influences on fashion came from herlolas, parents and even her sister. Nowonder she is also into fashion design.
Ria Bolivar. Ria Bolivar is somehow different fromthe other Best Dressed personalities this year. While almost everyone likes to wear designer or branded clothes,this 24-year-old morena model candidly admits that she goes thrift-shopping.
"She is very into ukay-ukay," described Pauline, "so,...shemixes and matches her clothing—yung mga designer pieces from her designer friends,yung mga branded but from ukay-ukay. Interesting 'yong mix na yun."
Ria said that whenever she visits ukay-ukay, she alwayslooks for vintage shoes and bags.
Where does she usually shop?
"I frequent ukay-ukay stores in Iloilo, bazaars, and tinymarkets. I also go to Divisoria."
Solenn Heuseff. LikeKatrina, this half-French, half-Filipina confessed that fashion is virtually inher blood. Both her grandmothers were sewers and pattern makers during theirtime.
This could have inspired the 23-year-old model/make-upartist to also try designing.
"She, believe it or not, is now into this thing called 'slutty chic,'" Pauline told PEP. "Mas ano siya, very provocativedresser. She's half French so there's akind of European flair going into the way she puts her outfit."
Solenn has already modeled for international brands likeChristian Dior in Paris. Even it wasonly for a short period of time, Solenn thought that it was a good experiencebecause, "I got to see how the buyers from different countries choose what'llbe in their stores. It was really funnyto see how styles can vary from one country to another."
Mai Kauffman. Last year, TV Patrol entertainment reporter Marie Lozano, who waspregnant at that time, made it to the 2007 Preview Best Dressed. Now, it's Mai Kauffmann, who is an interiordesigner by profession, but also designs her own line of quirky bags calledGoddess. She is also a co-owner of amid-century antiques and furniture shop called KARMA (Kauffman Auction RetroModern Antiques).
ADVERTISEMENT - CONTINUE READING BELOW
"Parang every year, tsamba lang na there's always somebodypregnant in our choices. So it's alwaysinteresting to watch how you deal with the changing shape," explained Previeweditor about having a pregnant woman in their list almost every year.
Pauline was amazed at how these pregnant women continue tobe fashionistas.


Referring to Mai, she said, "But it's nice to see that shehas not lost it. She likes loud colors,she'll pile things on, she's a maximalist in every sense of the word. So, talagang she'll do colored tights andthen, printed colored tights, even when she's pregnant!"
Crystal Osamis. Asidefrom models, Preview also picked anaspiring designer, Crystal Osamis, to be included in this year's BestDressed.
"What she does is she makes her own clothes," Paulinerelated to PEP. "Kasi makakamura naman talaga siya kung siya na lang anggagawa, so she makes her clothes."
In an interview with Preview, Crystal said that shereally enjoys creating dresses for other people. "It's a business I would want to take seriously. My personal style definitely reflects theclothes I make—I would never make a piece I wouldn't wear."
According to Pauline, Crystal is slowly making a name in thefashion industry. "She's been hitting the bazaars lately, trying to sell thestuff that she makes for herself because other people are like, 'Ang gandaniyan, a. Sino ang gumawa?'" narratedPauline.
Joyce Oreña. The next Best Dressed is a well-known fashionista who has gained popularity by wearing her personallydesigned jewelry. She sells some of her designs in her ownaccessories boutique, JÔ, located at the the Greenbelt 3 in Makati.
When it comes to clothing, Pauline said that Joyce is, "Veryinto designer [clothes] and the best European designers are really the stars ofher wardrobe. Like, when you look at it, 'Oh my God!'"
ADVERTISEMENT - CONTINUE READING BELOW
She added, "She's like the 'who's who' of the best brands inthe world. She wears these and then shemixes it up with her personal designs also to get the mix."
Where does she usually shop for these designer clothes? "InManila, I shop at Greenbelt 3. Abroad, it's Milan, Rome, and Florence."
Anna Angara. Last but definitely not least is Anna Angara, a 37-year-old interiordesigner. This lady follows a certain discipline when it comes tofashion. Preview said, "She'llalways opt for quality pieces regardless of price point. Secondly, she won't wear anything less thanbecoming—just for the sake of fashion."
Also, Anna told Preview, "I also stay in shape so Ican wear as few items of clothing as possible!"
Get to know the fashionistas and their differentstyles in the latest issue of Preview coming out this July.