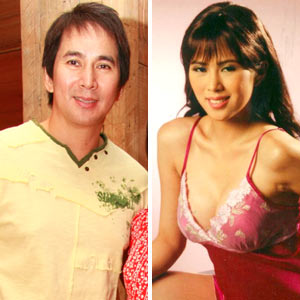 IMAGE 0
---
KristaRanillo was interviewed live today in Startalkto talk about her jump to sexy roles and her father's—former matinee idolMatt Ranillo III— objection to it. Krista and dad Matt have not been talkingfor some time now because of Krista's decision to go sexy, though yesterdayopened new hope between father and daughter in the course of the interview. Butbefore that, host Joey de Leon asked for an update on Krista's academics.
"Igraduated last year," revealed Krista. "I finished in Interdisciplinary Studiesat the Ateneo de Manila, Communication Arts and Psychology."
"Matindiitong batang ito," praised Joey, and then he joked, "Interdisciplinary...yun angproblema mo din. Sabi ng tatay mo hindi ka daw madisiplina. Anong nangyari,bakit nagalit ang daddy mo sa movie mo na Paupahan?"
"Kasi,I signed up for a new manager late last year. So, si Tito Arnold [Vegafria], andhe offered me this project. Yun nga, medyo daring siya which kailangan namankasi doon sa role."
Howdaring exactly was the role? Did she go topless?
"Panoorinn'yo na lang," Krista teased. "Basta kami, approved without cuts!"
MISCOMMUNICATION. Becauseof Krista's decision to go daring, her dad did not approve, which resulted intension between father and daughter.
"Actually,nagalit po siya dahil nagkaroon ng miscommunication. Hindi yata siya na-informdoon sa theme ng film kasi hindi niya nabasa yung script at yung final edit ngfilm, hindi niya napanood. All he was receiving was mga second-hand lang nainformation—newspapers, Internet postings, mga tao na nagsasabi na, 'O, balitako si Krista, ganyan...'"
ADVERTISEMENT - CONTINUE READING BELOW
DidKrista's boyfriend, Director Dominic Zapata, feel the same way her fatherdid?
"Oo,"Krista said. "Si Direk Dom, very supportive naman sa lahat."
Newshas it that up to now, Krista and her dad are not speaking to each other. Is thistrue?
"Aamininko na hindi okey," Krista sadly said. Upon hearing this answer, Joey followedhis question with, "Totoo ba yung tinext mo yung father mo nung Father's Day atdinedma ka lang?"
"Kasi,yun nga, nag-presscon kami at wala siya sa house the whole day, so alam ng lahatnaman na how close I am with my dad. Yun nga, text ko siya, 'Daddy, HappyFather's Day. I love you.'"
"Feelingmo ngayon, galit pa si Daddy Matt?" Joey immediately asked.
"Mahirapkasi talaga kung close kayo, 'tapos biglang hindi ka na kakausapin. 'Tapos, yun,I always tell him na, 'Daddy, attend my premier night para makita mo yung...para Iwant him naman to feel proud sa work na ginawa ko.'"
PATCHING UP. Krista had noidea that Joey was about to tell her that her dad was on the phone, ready totalk to her. Surprise was etched all over Krista's voice as she listened to herdad's voice fill the Startalk set.
"Butinandiyan ka," Joey called out. "Tapusin na natin ito. 'Eto sa Krista, na ini-interviewko sa Startalk."
"Okay...okay...,"was all Matt said. Upon hearing this, Joey asked, "Ano, may tampo ka pa ba ditosa baby mo?"
ADVERTISEMENT - CONTINUE READING BELOW
"Hindiko nga alam, kasi naguguluhan din ako, Pareng Joey," Matt said. "Siyempre anakko 'yan, mahal ko rin 'yan. And, on the other side, artista din 'yan, so alamko yung role niya bilang artista, and manager din niya...naguguluhan ako dahilako ang nagpakilala kay Krista para iisa na lang manager namin. Apparently, parangmay deception, parang may lokohan."
"Mina-manageka din ni Arnold?" a surprised Joey asked.
"Yes.When I was doing a soap sa kabilang station, nagkausap kami at nagkaayusannaman. Sabi ko, 'Di handle mo na din anak ko, kasi she's making a comebackafter her graduation.' And I assumed na lang. and I said na, 'May autonomy kayo.She's old enough and okey naman siya, so kayo na mag-usap.' Hindi ko nga alamat biglang nagkaganito. Ang dami ko nang nababasa on the Internet, papers, myfriends calling me up. It really hurt me."
"Nagkausapna ba kayo ni Arnold pagkatapos mangyari lahat ng ito?" Joey asked.
"Onetime lang kami nagkausap and that's it for me," Matt said. "Hindi ko namankina-cut-off yung communications kosa manager ko din. When he told me na ganito, sinabi ko na bakit hindi man langsinabi sa akin yung storyline man lang or ganito pala na medyo daring. At leastmay input sana. Anak ko rin 'yan, e. Hindi ko pinabayaan anak ko. She's anintelligent actress and a good daughter to me."
When asked by Joey if he and Krista had aone-on-one regarding her decision, he said, "In all honesty, hindi pa, dahilI'm still wondering kung saan ako nagkamali. Bakit ganito nangyari? So it hurtsa lot."
ADVERTISEMENT - CONTINUE READING BELOW
"Umiiyakbaby mo, Matt," Joey said. "Well, kailangan mag-usap kayo kahit hindi ontelevision. Pero sa boyfriend niya, wala ka naman objection doon?"
"Ibangissue naman yun," Matt said, laughing.
"Pinapatawako lang ito," Joey said. Then he teased, "Magko-cover daw siya ng FHM."
Krista,who had been silent, suddenly blurted, "Tito Joey, preno kamuna!"
"Anona naman yun?" Matt exclaimed. "Baka magsuntukan nakami ni Arnold niyan."
Turning serious, Joey asked Matt what image he really wanted for hisdaughter.
Krista's dad replied, "Gusto ko maging role model siya sa mga kabataan. Mag-instillsiya ng good values sa kabataan. Hindi yung sa ganitong paraan na magka-comebackka and then you go that low para lang mapansin ka. Magaling siyang artista andshe's good communicating. Huwag naman sa ganitong paraan. Wala sa idea ko atwala sa personality niya."
Joeynow asked Matt to speak to Krista so that the miscommunicationbetween father and daughter could now be over.
"Sigena nga," Matt said. "Matagal na din kami hindi nakakapag-usap ni Krista and yungprofessional life niya, affected sa personal life namin. You want the best forher and for your family."
Matt'svoice suddenly cracked as he gave his daughter his first message after manyweeks of silence. He said, "Krista, I have always loved you. I want the bestfor you. Usap tayo na mag-Ateneo ka at tinapos mo for me. Alam ko na nahirapanka and you needed to stop showbiz.
"Ayoko sana na magpadalus-dalos ka sa career mo. Masakit din yun para sa isangama na nagmamahal sa kanyang anak. I understand na role lang 'yan, pero masakit,e. Dahil I feel na they're using you dahil mabait ka. Nasaktan din ako kayArnold na pinabayaan ka. And I felt bad, and nabigla ako doon sa Internet—mga pictures.And I don't like that. I want the best for you, magaling kang artista and I wantthe best for you. Mas magaling ka sa akin, you can do a lot of things perohuwag naman yung ganoon, anak.
ADVERTISEMENT - CONTINUE READING BELOW
"Youknow how much I love you. Marami namang roles. Marami akong tinanggihan parama-maintain ang clean image natin. Huwag naman ganyan. Alam mo naman na lahatng issue sa buhay mo ay affected ako, e. Ako, di bale saktan. Pero sa iyo, lalabanat lalaban ako, e. Buti hindi mo pinapakilala yung person behind the publicity.Naku po, papatulan ko talaga 'yan!
"Iam sorry kung hindi kita nakakausap lately at alam ko na masakit din sa atinyun, pero I have to put my foot down and be the father for you and be thefriend for you. I'm glad we're communicating pero sana...let's sit down withArnold and let's talk about this. Masakit, e. And I am disappointed with thisArnold. Ako pa ang nagdala in the hope of giving you a good manager. He's agood manager pero hindi in this way para sa comeback mo."
AfterMatt's lengthy message, it was Krista's turn to speak.
"Daddy,thank you for your message. I'm happy na nag-usap tayo, pero atthe end of the day, you know that I love you. This is just a role, I am stillthe same person. You know, gusto ko mabalik yung closeness natin and I don't wantthis issue to break us. I just want us stronger as a family. I hope talaga na makausapkita in person, kahit na wala muna si Tito Arnold. Tayong dalawa lang. I loveyou."