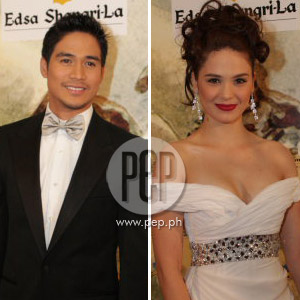 IMAGE 0
---

Glitz and glamour overflowed atthe Isla Ballroom of the EDSA Shangri-La Hotel in Mandaluyong City last June 29as ABS-CBN stars converged to celebrate the 16th anniversary of Star Magic.
Founded in 1992, Star Magic—thencalled ABS-CBN Talent Center—was the brainchild of the network's formerexecutive vice president Mark Joey Zulueta and then program director JohnnyManahan. Serving as the network's official talent arm, Star Magic aims todiscover, cultivate, develop and guide aspiring young talents who dream ofmaking it big in the highly competitive world of entertainment.
Some of the big names currently in Star Magic's stable of talents include Claudine Barretto, Piolo Pascual,John Lloyd Cruz, Bea Alonzo, Kristine Hermosa, Jake Cuenca, Diether Ocampo, SamMilby and Roxanne Guinoo, among many others.
KEEPING THE TRADITION. Asearly as 6:00 p.m. Star Magic talents, particularly the neophytes, startedgracing the catwalk before proceeding to the outside lobby of the Isla Ballroomfor cocktails.
Steadily, the stars beganarriving either by their lonesome or with a date in tow. Claudine Barrettoarrived together with husband Raymart Santiago while matinee idol Piolo Pascualproudly introduced his mother to everyone as his "date."
Zanjoe Marudo arrived minusrumored girlfriend Mariel Rodriguez. Despite the absence of hunky beau DerekRamsay, young actress Angelica Panganiban was simply stunning in her black gownand chic hat. John Lloyd Cruz, looking cool as usual in a suit, was a pictureof ease and confidence.
Popular love team Kim Chiu andGerald Anderson were inseparable that evening. Acting like a true gentleman,Gerald accompanied Kim at every stop without letup.
Dateless but striking nonethelesswas Kristine Hermosa. Talking about the annual event, "We're here lang talagapara magsaya," said Kristine, trying her best to stave off any personalquestions coming from the press. Ex-flame Diether Ocampo was also in attendanceand was quite guarded when it came to questions about him and Kristine.
ADVERTISEMENT - CONTINUE READING BELOW
The former lovers generously gaveall the onlookers enough reason to be curious about their true status when theydanced sweetly on the dance floor, unmindful of the incessant assault of cameraflashes around them. Later on, another ex-boyfriend of Kristine, JerichoRosales, joined the erstwhile pair, proving that all's well between the threeof them.
Anne Curtis and Sam Milby's claimthat they are only "exclusively dating" contradicted their actions thatevening. Aside from being inseparable throughout the evening, the attention they gave each other, their body language, and affectionate glanceswere signs that would prompt anyone to think that they are already a couple.
Singer-host Nikki Gil did a greatjob of hosting the two-hour program. Crooner Richard Poon delivered standardsand even modern pop hits. Star Magic heartthrobs Piolo Pascual, Sam Milby, andsinger Jed Madela also joined him on stage.
The night progressed into afull-blown party as all Star Magic talents crowded the space near the podiumand danced till early dawn, led by famed DJ, Kimozave. As the stars partiedand interacted, head honcho Mr. Johnny Manahan was a picture of contentment and gladness. The man dubbed as Mr. M looked proud and astounded athow Star Magic has grown huge over the years.
As he lifted his wine glass for atoast, Mr. M modestly said, "More anniversaries to come." He gently wanderedhis eyes back to the dance floor, looking at his "children" with care andtrust—and it was always like this for Johnny Manahan since day one.