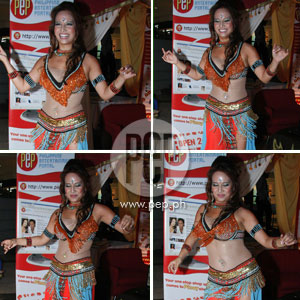 IMAGE 0
---

Lydia Macaraig turnedsome heads at the 2nd AnnualPhilippine Belly Festival held on June 28 at the GloriettaActivity Center in Ayala Center, Makati. Clad in an intense red belly dancingbra and matching skirt, the 60-year-old performer showed off her belly andshimmied without inhibition. Her performance was one of the most applauded inthe Belly Fest sequel. Last year, the festival that took place at the Ateneosuccessfully introduced a wholesome picture of belly dancing in the country.
"More peoplewill be reached—which is our mission—so this is very good," said JillNgo-Crisologo, director of Peak Performance Dance Studio and Belly Fest 2008organizer.

This year's festival, hosted by Peak Performance Dance Studio, was clearly moreimpressive compared to the first Belly Fest. It featured a belly dance bazaar with food stalls and free workshops atthe activity center of the mall. Dozens of people were seated at the center ofthe mall to watch the two-hour program while hundreds of spectators watched theperformers from the second floor of Glorietta.
PEP (Philippine EntertainmentPortal), a media partner of Belly Fest, set up a booth to introduce the mobilenews function of the site. Another booth that was flocked by mall goers wasRegine Tolentino's booth that displayed belly dance costumes. She has beenmanaging this shop for the past nine years.
Nearly 1,000 dance concert guests turned up—including belly dance buff RegineTolentino, flamenco dance deity Clara Ramona, and the lively Jill, a formerWhiplash Dance Company member. Lydia, however, was not nervous, sharing thestage with these luminaries. The senior citizen was instead "well-motivated."
Said she: "Godcreated me to bring him enjoyment and for his pleasure. I believe God smileswhen we use our abilities." Lydia learned belly dancing last year to put a stopto backaches. A doctor recently recommended an operation, but she refused,putting her faith instead on the dance's healing qualities.
ADVERTISEMENT - CONTINUE READING BELOW
Even Regine Tolentino attests to how belly dancing is a good form of exercise."I strongly recommend belly dancing because this is a great way to lose weightand not get the 'workout' feeling when you exercise in the gym. You'll alsohave a lot of fun because you'll discover your sensual side and you'll be ableto really tone your muscles," she pointed out during the event.

It even put some spark back into her own love life. "It's good because you getto isolate different muscles and may mga undulations, mga chest lifts, sexypelvic thrusts. My husband appreciates it."
The Unang Hirit host was a sexy whirlwind onthe dance floor. Regine was dynamic as ever, dancing to Middle-Eastern-inspiredmusic. Her husband Lander Vera Perez attended the event as well as theirchildren Reigen, 7, and Reigne, 9. Their two daughters are studying bellydancing in the dance studio of Regine.
Besides Lydia andRegine, Clara also made the audience of mall goers smile during the event.Known internationally for her rendition of Carmina Burana, the danceteacher of Lucy Torres-Gomez displayed her belly dance prowess. She wasmysterious and graceful, performing a fusion of flamenco and belly dance.
Other lead dancerswere Gemma Magtibay, Gladys Mallari, Arcel Benson, Chiho Joko, and SummerAllada. Compared to last year, they were seemingly more accustomed toperforming before audiences.
As a dance concert,the 2ndBelly fest was better organized. It didn't have as manybelly dance numbers that made the show quite tedious to watch last year.Instead, it presented fresh belly dance elements to the audience. ClaireSakumura, a Japanese belly dancer, even displayed a style, reminiscent of 1960sSoul Train Gang member Charles "Robot" Washington's locking technique.
A "modern bellydance" was demonstrated by the Peak Performance dancers in tight-fitting silvercostumes. The presentation, which mixed belly dance with hip-hop music, was energetic. Modern songs such as "Beautiful Liar" and "Suicidal" weretapped to provide the music for belly dance, an art form that has its roots inMiddle East.
ADVERTISEMENT - CONTINUE READING BELOW

The group Sing India also lent their music to the event. The duo of Punnu and CJWasu enticed people to dance with the pulsating beat of tabla, a percussion instrument.
Jill and the BellyFest lead dancers, on the other hand, presented a cane dance, which originatedfrom Egypt. In ancient Egypt, belly dancers used canes carved with gazelleheads as props.
Most follow-ups hardly do the first showjustice, but the 2nd Belly Fest put belly dance in our country in full swing.Last year, the festival taught us that belly dancing was for everyone. Itsnuffed out the bawdy clichés associated with the dance. On the other hand,this year's show demonstrated how fun and entertaining it really is. Even a60-year-old became oblivious of age and backaches because of the dance.
Lydiaput it best: "Belly dancing is the most pleasurable workout I've experienced inmy life. I now listen with love to my body's messages, and every cell in mybody responds to every single thought I think and every word I speak."

Click HERE to view photos of Belly Fest 2008.