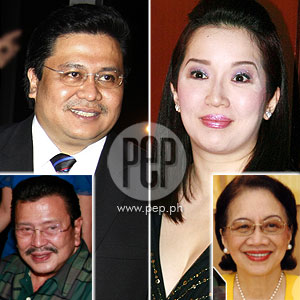 IMAGE 0
---
Politics and show business are two fields that are almostalways overlap. Several localcelebrities have tried their luck in politics and some politicians have beendrawn into show business.
While there are showbiz celebrities who're even fortunateenough to get a seat in government, others who lost in the elections continuemaking movies and TV projects. Sometimes, successful politicians are tapped for cameo roles in moviesor television.
How about politicians who are not personally involved inshow business but have significant links?
PEP (Philippine Entertainment Portal) notes thatcontemporary presidents of the Philippines, past and present—Ferdinand Marcos,Corazon Aquino, Fidel Ramos, Joseph "Erap" Estrada, and GloriaMacapagal-Arroyo—have connections in local showbiz through their children.
Here's the list of the presidential children who in variousdegrees served as links between the highest office and local entertainment.
Imee Marcos. She is the eldest daughter of the deposed late President FerdinandMarcos. Following the political path ofher father, Imee became the representative of the second district of IlocosNorte in the Philippine House of Representatives in 1998-2007.
Before she entered Congress, Imee's interest was inentertainment. During martial law inthe '70s, Marcos's children were studying in England. Imee attended the London Academy of Music and Dramatic ArtsActing and Playwriting. She also tookup acting at the Royal Academy of Music and Dramatic Arts in London.
Although the public did not see her practicing what shelearned about acting, Imee contributed to the entertainment industry byproducing some of the memorable works in movies and television.
In Imee Marcos's capacity as director-general of the ExperimentalCinema of the Philippines (1981-1986), she co-produced with director Marilou Diaz-Abaya the movie Brutal (1980); with director PequeGallaga, Scorpio Nights (1985); and with director Tikoy Aguiluz, TheBoatman (1984).
Also in the same period, the president's daughter produced remarkable movies like Oro, Plata, Mata(1982), Himala (1982), Misteryos sa Tuwa (1984), and Soltero (1984).
ADVERTISEMENT - CONTINUE READING BELOW
In television, she was part of the two Filipinochildren's shows that came even before Batibot—these were KulitBulilit and Kaluskos Musmos.
After her political career, Imee Marcos is now a privatecitizen who helps the entertainment industry by supporting the organizationcalled CreaM, a coalition that aims to unite artists in the independent film,animation, and digital-cinema industries.
Kris Aquino. She is the youngest daughter of former President Corazon Aquino andBenigno Aquino Jr., the famous opposition senator who was assassinated duringthe Marcos regime in 1983.
Kris stayed with her family in the States while they were inexile during martial law. She startedher career show business after Marcos was removed from power and replaced byher mother Cory Aquino.
In the early '90s, Kris made her debut in local showbiz. Herrole in the movie Pido Dida (1990), with the late actor-comedian ReneRequiestas, became a big hit and a sequel was immediately done the followingyear.
A few years later, Kris became known as "Massacre Queen" forportraying the lead role in murder movies: The Vizconde Massacre Story: GodHelp Us (1993), The Elsa Castillo Story: Ang Katotohanan (1994), andThe Fatima Buen Story (1994).
She was also called the Queen of Horror Films after shestarred in two horror flicks-Feng Shui (2004) and Sukob (2006)-and in the TV suspense sineseryePatayin sa Sindak si Barbara (2008).
Kris excelled in hosting TV shows. She had her own shows like, The Kris Aquino Show(1994), Kris& Tell (2000), and Morning Girls (2002). Eventually she shared the MorningGirls with ABS-CBN News anchor Korina Sanchez, making it Morning Girlswith Kris and Korina (2003). Right now, she's co-hosting with her managerBoy Abunda in the morning show, Boy & Kris.
Aside from talk shows, the former first daughter was alsodubbed as the Queen of Game Shows for successfully hosting Game Ka Na Bafor almost six years. Her unique, perky style in Kapamilya:Deal or No Deal has even made it to theone of the episodes of its U.S. franchise, Deal or No Deal—Around the World.
ADVERTISEMENT - CONTINUE READING BELOW
As a celebrity, Kris and her relationships are often in thepublic eye. Years ago, she had a romantic affair with veteran actor PhillipSalvador, with whom she bore a son named Joshua. Now married to cager JamesYap, Kris dotes as well on her second son, Baby James.
Jo Ramos. Former President Fidel Ramos's link to showbiz may not be as strong asthat of the previous presidents, but he has a daughter who was inclined to theentertainment industry—Josephine "Jo" Ramos.
Jo, to her fellow musicians, is one of the five daughters ofthe 12th president of the Philippines. She used to be a member of a singing group before she decided tobecome a solo artist.
Her career attempt was interrupted when she married formermatinee idol Lloyd Samartino, son of 1960s singer Carmen Soriano. Unfortunately, the marriage did not workout.
Jinggoy Estrada. Senator Estrada (Jose Ejercito), is the eldest son of the 13thPresident of the Philippines, Joseph "Erap" Estrada, also former San Juan Mayorand later, senator. We know, of course, that Erap himself was an action star before politics beckoned.
And so with Jinggoy who was already a showbiz person before he was electedVice Mayor of San Juan city.
As another Estrada action star, Jinggoy played lead roles in the movies: SaKuko ng Agila (1989), Eagle Squad (1989), The Marita Gonzaga RapeSlay: In God We Trust (1995), and Kuratong Baleleng (1995).
Sen. Jinggoy also helped in producing other action filmsthat top-billed his friends: PepengAgimat (1999) and Minsan Ko Lang Sasabihin (2000), starring Ramon"Bong" Revilla, now also a senator; and Palaban (2000) starring the lateRudy Fernandez.
Last year, Sen. Jinggoy earned himself an acting award forhis role in Katas ng Saudi (2007). He won the Best Actor award in the Metro Manila Film Festival and therecent Golden Screen Awards for the movie.
ADVERTISEMENT - CONTINUE READING BELOW
Mikey Arroyo. JuanMiguel Macapagal Arroyo, 39, or simply Mikey Arroyo, is the first son of thecurrent President Gloria Macapagal-Arroyo. He used to be the Vice Governor of Pampanga. Now he serves as a congressman in the second district of the sameprovince.
Before he ran for a seat in Congress, Mikey appeared in theaction-comedy films:
Ang Maton at ang Showgirl (1998), Ang BoyfriendKong Pari (1999), Mahal Kita, Walang Iwanan (2000), Di KitaMa-Reach, A.B. Normal College (Todo na 'Yan, Kulang pa 'Yun) (2003), MasamangUgat (2003), and Sablay ka na, Pasaway ka pa (2005)
After he was voted as the representative of Pampanga'ssecond district, Mikey stopped doing movies. He is now focused on his job as a public servant, and on his wife Angelaand their two daughters.