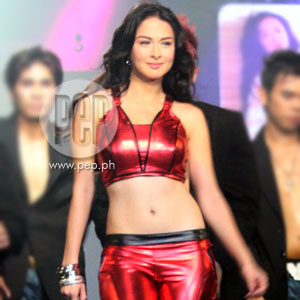 IMAGE 0
---
Last year, while KatrinaHalili was basking in public adulation for being crowned as the country's Sexiest Woman the second year in a row, young actress Marian Rivera lagged behind at No. 24. In 2006, Marian ranked even lower,occupying the 38th spot.
Twelve months later andwith two top-rating television series, plus a slew of endorsements beefing upher credentials, a blooming Marian Rivera finally made sure there'd be nothree-peat conquest for her Marimartormentor.
Notching the top spotdespite the fact that she is yet to grace the cover of FHM Philippines, MarianRivera was crowned last night, July 17, as 2008's Sexiest Woman at theWorld Trade Center in Pasay City.
RUGGED WAY TO THE TOP. The route to the top was not easy for the23-year-old actress. Facing tough competition, Marian went up against 99equally beautiful and deserving ladies vying for the annual honor.
Marian bested perennialfavorites like Diana Zubiri, Iwa Moto, and, of course, Katrina Halili. The Dyesebel lead star also nosed out lastyear's strong contenders Cristine Reyes and Ehra Madrigal. Marian even had to slug it out with former GMA-7 darling and 2005 FHM winner AngelLocsin in a tight and controversial race to the finish line.
ADVERTISEMENT - CONTINUE READING BELOW
Fan votes for Marian, however, were more than enough to seal the victory. In an article posted by PEP(Philippine Entertainment Portal) on June 27, final results showed Marianamassing a total of 316,135 votes against Angel's 121,388. Two-time winnerKatrina Halili, on the other hand, had 123,239 votes to secure the No.2spot. Angel wound up third overall.
Marian's coronation waspreceded with a presentation of the other contenders. Not everyone who made itin the final list was present. Angel was rumored to be abroad at the time ofthe event. Top Ten finalists Ehra, Diana, Angelica Panganiban, and Anne Curtiswere conspicuously absent.
Marian, dubbed thatevening as the "Mob Princess"—a nod to the mafia-underground theme adopted bythe production team this year—emerged in a metallic red spandex midriffattire complemented by a pair of black knee-high boots. The audience erupted the very minute Marian performed her signature Marimar hip-swinging dance move, which definitely showed off that sexy body of hers.
ADVERTISEMENT - CONTINUE READING BELOW
TIME TO GRACE THE COVER. Marian's victory was touted by FHMPhilippines as a breakthrough. All of the previous winners graced the cover before they bagged the coveted honor. Marian has yet to appearon the cover of the popular men's magazine.
With her victory, theFHM staff, and especially the readers, are hoping thatMarian would finally give in to the huge clamor. Contrary to popularimpression, Marian was already being eyed by FHM even before her careerskyrocketed because of Marimar.
"Last year, I mean,sinabi ko na din 'to, nasa mga soaps pa lang siya nasa radar na siya kumbaga ngFHM. Marimar, ganun din pero siyemprekailangan din nating igalang 'yong mga nais ng GMA doon sa show, hindi papuwede kasi ganito. Naintindihan naman natin 'yan," shared FHM PhilippinesEditor-in-Chief Allan Madrilejos to the media a few hours before the event.
Clinching thedistinction as the country's finest would definitely boost the demandconsiderably, according to Allan.
ADVERTISEMENT - CONTINUE READING BELOW
"Kay Popoy [Caritativo,Marian's manager] ako nakikipag-usap," shared Allan. Talking about FHM'starget, he added, "Sana naman this year. Kasi it's true of all editions ng FHMworldwide na 'yong local winner nila lumalabas to say thank you sa print asidefrom the party, lumalabas sa magazine. Ang ideal kasi within the year na siya yungwinner."
And to prove that theentire FHM team is dead serious to get that elusive "yes" from Marian, the everhopeful Allan good-naturedly quipped, "Sana naman," he smiled, "ipagnu-novenanamin."