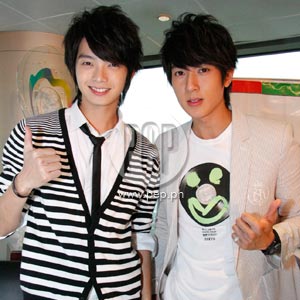 IMAGE 0
---
Two of Taiwan's hottest matinee idols arrived in Manila onJuly 12, 2008 to promote their hit TV series, Romantic Princess, nowairing in ABS-CBN. Wu Chun and Calvin Chen are both members of a phenomenalAsian boy band called Fahrenheit but have also successfully ventured into TV'sprimetime.
Romantic Princess showcases the talents and goodlooks of the two members and tells of the story of a young girl (played byAngela Zhang) who dreams of becoming rich but ends up falling in love.
In a press conference held in ABS-CBN last July 12, bothTaiwanese stars greeted the media with enthusiasm. Both stars were asked if it wastheir first time in Manila and surprisingly, Chun and Calvin responded that itwas not.
Calvin says, "I came here like ten years ago with myfamily just for a family retreat 'cause I know there are so many places in thePhilippines. It is a good place for resort and going on retreats...many islandsin Philippines...a lot. And I remember, in my memory when I was a kid, that theseafood here was very nice, very yummy."
Wu Chun, on the other hand, owns a health club in Bruneiwhere he claims his staff is composed of 80 percent Filipinos. He comes toManila once in a while to meet his staffing needs. Chun characterizes Filipinosas "nice and very professional."
When asked about the good and bad side of their popularity,Wu Chun states, "I can't spend more time with my family because I'm staying inTaiwan but my family is in Brunei and sometimes I really miss home."
As for the good things, Chun continues by saying, "Goodthing a lot. We can influence a lot. We can encourage."
Calvin also responded by saying, "When you lose your privacy[that] it makes you more responsible to yourself."
ADVERTISEMENT - CONTINUE READING BELOW
He adds, "Isn't it weird that we have to shake so many hands ofmany people? How many people can have this kind of experience in their wholelife? We can see people's love and their care so truly and directly to us."
PEP (Philippine Entertainment Portal) asked the twoheartthrobs what they enjoyed doing more—singing or acting?
Wu Chun said that they cannot choose one over another asthey really enjoy acting in front of the cameras as much as singing in front ofa crowd. As for dream roles, Wu Chun wants to star in an action movie andCalvin expresses humorously that he wants to play the role of a killer. Both admit though that it may be hard todeviate from the usual prince-and-heartthrob roles they have been accustomed tobeing seen.
For fans who want to know if they have girlfriends backhome, Calvin answers for both of them, "Too busy."
Wu Chun is a Brunei-born Chinese who was discovered when hecame to Taiwan. His first shot to fame was playing one of the leads in theseries Tokyo Juliet. But acting in the popular drama, Hua Yang Shao Nian ShaoNu a.k.a Hana Kimi in 2006 propelled him to stardom. Outside his acting,singing and modeling commitments, Wu Chun owns a health club in Brunei.
Calvin Chen won first place in a talent competition held inCanada where he finished his college education. This proved to be his goldenticket to Taiwan's entertainment industry.
As for future plans, Wu Chun and Calvin said that they areopen to working with local talents if their busy schedules will permit. WuChun, though, is set to make hearts flutter once again with Hot Shots, a new TVseries he will co-star with F4's famous heartthrob, Jerry Yan. It is set to airin Taiwan by the end of July and fans hope to see it on Philippine TV soon.
ADVERTISEMENT - CONTINUE READING BELOW
For the meantime, they just have to catch the last two weeksof Romantic Princess in ABS-CBN as the drama moves towards an excitingand romantic ending.