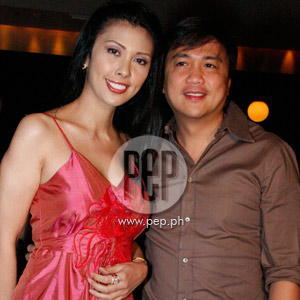 IMAGE 0
---
The bad weather did not dampen the spirits ofthe approximately 80 guests who trooped to the birthday dinner of talentmanager Arnold Vegafria held at the FelixBar, Greenbelt5 in Makati City, last July 26.
While the storm was raging outside, celebrities and Arnold'sclosest friends were having a grand time chatting, enjoying the sumptuous dinnerprepared by Florabel Co, the owner of Florabel's in The Podium, and dancing.
THE GUESTS. Celebritycouple Dingdong Avanzado and Jessa Zaragoza, who arrived with their adorabledaughter Jada, were among the early birds.
A few minutes later, Rachel Alejandro came. She dropped bythe table of former boyfriend Dingdong, and was heard saying, "Ang laki na nganak mo." It will be recalled that the former sweethearts wrote the hit song"Paalam Na" in 1994, after their breakup.
Zanjoe Marudo spent a few minutes at the venue, with his Canon 450D camera.The Kapamilya hunk has been using his latest toy, a 45,000-peso gift from rumoredgirlfriend Mariel Rodriguez, in showbiz functions lately.
ADVERTISEMENT - CONTINUE READING BELOW
Tim Yap was his usual bubbly self. When asked about theHarry Potter-inspired rim of his eyeglasses, he said: "Siyempre, student naulit ako." The eventologist also told PEP that Embassy Club resumed itsoperations last week.
Kuh Ledesma and daughter Ysabella, Dra. Vicki Belo and boyfriend Hayden Kho, Matt Ranillo III, Geneva Cruz, "Star Patrol's"Mario Dumaual, and "Chika Minute's" Lhar Santiago also attended.
It was past 9:30 p.m. when Arnold's wards began pouring in. The first toarrive were siblings Jeffrey and Arnee Hidalgo. After a few minutes, Pops Fernandez came, followed by Cheska Garcia and Doug Kramer.
ThenBianca King, who was escorted by Champ Lui-Pio, entered the door with a bouquet of flowers for her manager, followed by Brent Javier with girlfriend Karen Pamintuan.
Luis Alandy, Marco Alcaraz, Jay-R, Kris Lawrence, Nancy Jane,Iya Villania, Denise Laurel, Miguel Escueta, and Billy Crawford were seen atthe venue past 10:00 p.m.
ADVERTISEMENT - CONTINUE READING BELOW
Senator Miguel Zubiri also took some time off from hislegislative duties to wish his manager a "Happy Birthday." He was with wifeAudrey Tan.
The Prats family flocked the venue with Shaina Magdayao,John's girlfriend. Later that night, Arnoldtold John: "Oy, ingatan mo 'to [Shaina]. I like her. She's a very nice girl."
Regal Entertainment's matriarch Lily Monteverde, herdaughter Roselle Monteverde-Teo, talent managers Manny Valera, Angeli Pangilinan-Valenciano, and LeoDominguez, plus Lovi Poe were also included in the guest list. The new "BoxOffice star" Annabelle Rama and son Raymond Gutierrez also dropped by.
THE WISHES. At40, Arnold has almost every thing already. Hard work and diligent networking have made ALV Management, the company set up by the birthday boy, one of the most activeplayers in the showbiz industry. And the people close to the 40-year-old talentmanager wish him more success and good health.
ADVERTISEMENT - CONTINUE READING BELOW
Bianca: "More money to come."
Denise: "Love and good health. Love of his family."
Luis: "Good health. Well, bigger and happier in terms oftalents circuit. May he find a lifetime partner."
Nancy:"More success and Peace of mind. Good health. Happiness and contentment."
Cheska: "More blessing. Blessings in terms of career, loveand friendship."
Billy: "Many more tequila shots. Blessings in life. Hope wecould continue the work and have fun.
John Prats: "Good health and maging successful this year."
Camille: "Whatever he is doing and whatever has now, I wishhim success. Because he's a good person…"
Jay-R: "I wish Arnoldwill finally find his soulmate."
Kris: "I wish Arnold can find the lovehe's been looking for."
The ALV Team: "We wish him success and everything good thatthis life can offer. Mag-increase ng suweldo and commission."
The celebrator's own wish is similar to that of histalents: "Good health, more success in the business, more projects for myalaga."
ADVERTISEMENT - CONTINUE READING BELOW
Hearing the fun and laughter, and feeling the warmth thatfilled the Felix Bar—the man, who initially pursued acourse in dentistry, was no doubt very much at home with the world he chose.
A former classmate said, "Good thing he decided to shiftcareers." And we couldn't help but agree wholeheartedly.
Because if there'sone man who can bring in the sunshine on a gloomy night, Arnold Vegafria can.