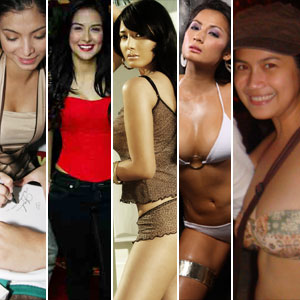 IMAGE 0
---

PEP will launch an auction with literally hot items for saletoday starting 6 p.m. (Philippine time). These are not only just "items," they'repre-owned by FHM's Top 5 Sexiest Pinays in the land: Marian Rivera,Katrina Halili, Angel Locsin, Diana Zubiri, and Ehra Madrigal.
The cool part of this auction is that bidders getwhat they want and, at the same time, contribute to the favorite charitableorganization of their idol.
Here are the items and details for the auction:
Auction item #1 - Marian Rivera 2x3 feet blow-up picture
Even without an official FHM cover, Marian is stillooh-lala-sexy on this huge 2x3 feet centerboard portrait. This shotwas taken during her JAG press conference last May 30, 2008 at DulcineaTomas Morato, introducing its premium denim line.
Auction item #2 - Marian Rivera's Jag Jeans
Take admiring Marian's precious derriere to a whole newlevel. Take home her pair of tight JAG jeans. Marian Rivera is the latest endorserof JAG Jeans, the premium denim line. Given her petite frame, she is wearssize 26.
ADVERTISEMENT - CONTINUE READING BELOW
Auction item #3 - Katrina Halili's Lingerie
Katrina owes her FHM winning streak to her dazzling stareand sexy bod, and a pair of her lingerie is the perfect souvenir to give yourself or to a special friend.
Auction item #4 - Angel Locsin Tank
What are the chances of getting Angel under your skin? Nil,but Angel's pre-owned, autographed, signature white tank from Folded & Hungshould be close enough.
Auction item #5 - Diana Zubiri'' Bikini
Diana sweating under the hot sun at the beach was theperfect picture of your summer. Take her favorite two-piece clothing as theperfect memento. This shot was taken last December 31, 2007 in Boracay.
Auction item #5 - Ehra Madrigal's Bikini
The sizzling white number on FHM's June 2008 cover made its wayto your list of favorites. So can Ehra's white bathing suit make its way intoyour hands—with the right bid. Ehra wore this bikini during her cover shoot for FHM's June 2008 issue.
ADVERTISEMENT - CONTINUE READING BELOW
These items will be displayed at the PEP booth during FHM's Sexiest Women Victory Party tonight, July 17, at the World Trade Center.
For the complete mechanics of how to join and bid,check out the PEP HOTTIE auction link at
http://www.pep.ph/fhmauction