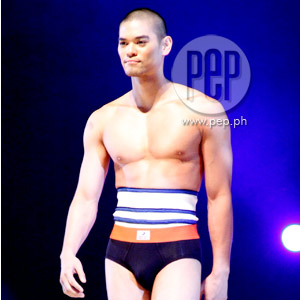 IMAGE 0
---
Singer Jay-R faced the "Central Jury" of Showbiz Central yesterday, July 27, to answer some controversialissues involving him, like the rumored woman living in his house and his oldrift with SC co-host Mo Twister.
Rufa Mae Quinto greeted the singer at the start ofthe interview and then asked him about R&B Princess Kyla. Rumors suggest that there issomething going on between them. Is this true?
"Alam mo naman si Kyla 'pag kumakanta, talaga naman namai-in love ka kay Kyla, di ba?" Jay-R said. "Ang galing, e. At ang sobrangbait niya."
"Na-in love ka ba?" Rufa Mae asked.
"Ako, I love everyone naman, e!" Jay-R laughed. Rufa Mae looked disappointed about not getting a straight answer.Jay-R turned serious, saying, "Love ko si Kyla as a friend."
LOVER NOT FIGHTER. Jay-R's name had been always dragged into controversial issues about his getting involved in fights.
Mo asked, "Isa sa mga malaking controversies na nangyari sabuhay mo dito recently was the fist fight you had with Borgy Manotoc. Ano batalaga nangyari? Nag-away ba kayo?"
"Nag-initan lang siguro," Jay-R answered. "Miscommunicationlang and misunderstanding, pero everyone knows na it wasn't a big thing in away."
Rufa suddenly asked, "Pero bati na kayo?"
"Oo, matagal na! One week after nangyari yun," Jay-Reagerly said.
Mo jokingly asked if Borgy's punch was strong. Jay-R replied, "Ay, walang ganoon [punching]. Push-push lang. Walangsakitan. A week after that, we shook hands and we were friends again. Boys willbe boys."
As Mo and Rufa Mae agreed to Jay-R's last statement, Jay-Rsuddenly turned to Mo and said, "Parang tayo before, nag-away dati."
As Mo smiled, Rufa Mae insisted on hearing the whole storyand the spotlight was now on Mo, who recalled the fateful day when he and Jay-Rbecame rivals for love.
ADVERTISEMENT - CONTINUE READING BELOW
"Dati may best friend ako na babae," Mo began. "Ten or maybeeleven years ago. 'Tapos, noong pumunta ako dito sa Pilipinas, we lost touch.'Tapos, naging boyfriend niya si Jay-R. Hindi ko siya girlfriend pero ka-closeko lang, pero naging girlfriend ni Jay-R. Bumalik ako sa States, nakilala koulit sila, 'tapos nagkagusto ako sa girlfriend niya. 'Tapos, yun."
Rufa exclaimed, "May boyfriend!"
"I know!" Mo laughingly interrupted. "Kaya nga kasalanan koito. Kaya yung away namin ni Jay-R, ako talaga'ng may kasalanan."
"Pero alam mo na sila na?" Rufa asked.
"Yes, alam ko," Mo said. Then he reasoned out by adding,"Ganyan talaga ang pag-ibig, e."
"So nagsuntukan ba kayo?" asked Jay-R.
Jay-R, who had been silent awhile, said, "Hindinaman." When asked by Rufa Mae if Jay-R and his girlfriend got back togetherafter the incident, he answered, "Hindi. Wala na. Mataga na yun. And hindinaman dahil doon."
This conversation with Jay-R revealed that he and Mo hadbeen friends for many, many years now, and Mo was all praises for Jay-R for keeping his cool.
THE R&B PRINCEAND HIS PRINCESSES. Rumor has it that Jay-R is singing his way to HeartEvangelista's heart. Is it true that he was wooing her?
"No," grinned Jay-R.
"Kala ko binasted ka?" Mo said.
"Ha? No, that's not true!" Jay-R exclaimed.
So how exactly did Heart's name find its way into Jay-R'srumor list?
"Ano yun, e, we have endorsements together so we were alwaysin photo shoots and commercials and mga dinner, ganoon. So, I guess people sawus together and they put some stories to say na kami. Pero hindi naman, e.Trabaho lang talaga."
"Bakit wala kang nililigawan sa showbiz?" Rufa Mae suddenlyasked.
"Marami!" Jay-R joked. "Pero siyempre, focus lang satrabaho. I'm focusing on the gold record, platinum and double platinum. Trabaholang talaga."
ADVERTISEMENT - CONTINUE READING BELOW
Besides, PEP (Philippine Entertainment Portal) knows thatJay-R's relationship with his non-showbiz girlfriend is still going strong.
That said, Mo moved on to a morecontroversial "girl-related" rumor — Jay-R supposedly had singer-actressGeneva Cruz living in his home.
"Yeah," Jay-R said. "It's not a rumor. It's true."
Before everyone could register shock, Jay-R calmly explained, "Kami, we're good friends. KC [Montero, Geneva's husband] is a goodfriend of ours and siyempre, may recording studio ako sa bahay and si Geneva,gusto mag-record ng album. You know, we're always there to support each other.If I need something from her, she's there for me, and if she needs somethingfrom me, I'm there for her."
"May blessing ba ito from KC?" Mo asked.
"Oo," Jay-R reassuringly said. "Cool naman kami and we'reall good friends."
"So, puwede ako makitira?" Rufa Mae joked.
Jay-R laughed, "Oo!"
THE KILLER QUESTION. There is no escape for Central Jury guests as they are given the option to eitheranswer the "Killer Question" or do the Killer Task. Picking the former, Jay-Rsaid that it was easier since Killer Task required him to do 100 push-ups.
Referring to the Killer Question, he read, "Bukod kay BorgyManotoc, lumabas din noon ang intriga na nanapak ka ng isang foreign nationalsa isang bar dahil ininsulto raw nito ang trabaho mo. Totoo ba iyon?"
So is this true?
"Hindi, hindi totoo 'yan," Jay-R said. "I'm a nice guynaman. Hindi ako nag-aaway-away. I just walk away siyempre, since we're in theeye of the audience lagi so you have to be smart all the time and be low-key,and you know, not get so hot. So I just walk away from the situations lang.Maraming naghahamon, pero I just back off lang."