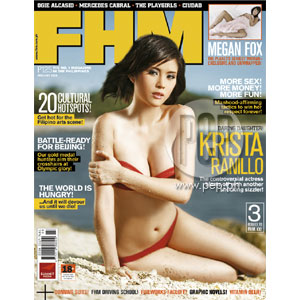 IMAGE 0
---
Whenone of her professors in the Ateneo jokingly quipped, "Naku baka mag-FHM ka ha?" FHMnewbie Krista Ranillo had no wayof knowing that it was to become a reality, and that her FHM cover would catapulther to showbiz fame once again.
Althoughher coming of age caused much controversy because of her family's objection toher sexy image, Krista is confident about the path she has taken.
She admits that the walk down the "bold and daring" road was prodded by her desire toprove just how serious she is about taking on more challenging roles. Trueenough, her comeback film, Paupahan,merited some colorful feedback.
"...Even if it had daring scenes, I saw itspotential and was challenged by it. I also thought this movie was an actingpiece. Sana mapansin," hopes Krista,who happens to have taken the #69 spot on FHM's 100 Sexiest list that came outjust last month.
Thegirl sure knows how to make a comeback with a bang. Read more about KristaRanillo in the August issue of FHM, nowavailable in magazine stands, bookstores and supermarkets nationwide for onlyP125 per copy. For more photos of Krista and her behind-the-scenes videos,log-on to www.fhm.com.ph.