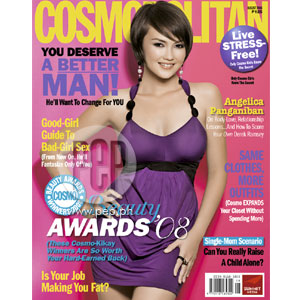 IMAGE 0
---
AngelicaPanganiban has always been captivating.
Angel-faced and innocent, she capturesthe hearts of countless admirers. Tough and level-headed, she inspires fellowCosmo women to endure the worst of trials. Most would crumble from thechallenges she's been forced to face—from the alleged Angelica-Carlo-Camillelove triangle, to the discriminating photos of her that circulated, and now, torumors of trouble in love paradise.
Yet, she perseveres.
When shefilmed Laurice Guillen's Santa Santita,she felt that she couldn't do her character justice. Even so, she forged on, "Natakot ako sobra...Pero, nilabanan ko yun."It turned out that the film would be her lucky break. Succeeding the release ofthe movie, she's been a constant in FHM's 100 Sexiest Women of the World.
Then asituation of serious magnitude pushed her to her limit when private photos madeits way into public domain. "Gumuho mundoko nun. Hindi ko talaga alam kung paano ako makaka-recover," she laments.What upset her most about the incident is the knowledge that her loved oneswere deeply affected too, "Kapagnasasaktan na mga mahal ko sa buhay...makakasapak talaga ako ng tao."
But evenin the toughest situations, Angelica isn't easily swayed. Even at her lowestmoment, she holds her head up high. In the bestpossible advice she could give to other women, she dishes, "Lagi mo dapat unahin sarili mo at kung paano mo ma-po-proteksyunansarili mo."
Ultimately, the child star is now a grown-up woman who has learned to be responsible for herheart and to love herself for who she is. Read more about her love and liferealizations in the August issue of Cosmopolitan magazine.
Theverdict is out! The Cosmo Beauty Awards reveals the best of the best in a special 11-page spread that answersevery Cosmo chick's burning beauty questions. Plus, one lucky reader canwin all the beauty products featured in this year's Cosmo Beauty Awards.To find out how to win, grab your copy of the August issue of Cosmopolitan Magazine,featuring Angelica Panganiban on the cover, now available in magazinestands, bookstores, and supermarkets nationwide at P125 per copy.
ADVERTISEMENT - CONTINUE READING BELOW