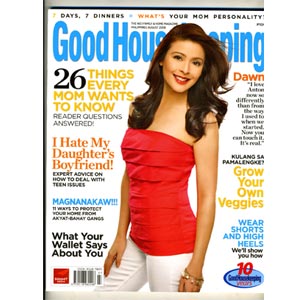 IMAGE 0
---
Oneperson lived in the political arena while the other person bloomed andflourished in the world of show business filled with pictorials and tapings. Atone point, these two persons met and exchanged vows to be together for as longas they live.


Ithas been a decade now since Dawn Zulueta and her husband, Davao del Nortecongressman Anton Lagdameo, entered married life.
Good Housekeeping'sissue for August 2008 features Dawn and how she has handled thepressure of being a career woman, a mother and a wife all at the same time. Theactress shares her experiences and the lessons that she has learned from hermarriage. Dawn also expresses how much she appreciates her husband, and how shegets to love him deeper than before.


Dawnand Anton started out as friends even before they began dating. She stressedthat a solid friendship is a very good foundation for any relationship. But, she says: "Don'tforget to be lovers at the same time. Sometimes, you're so stuck with thatnotion that you have to be friends; you forget that you don't get your hot oilanymore, you don't primp up anymore, you don't doll yourself up anymore.Because anyway, it's cool with him.
When it comes to lovers' quarrels, Dawn admits that she and her husband have had their share ofconflicts gien both of them are hardheaded about the way some thingsshould be done. But she believes that arguments in arelationship are normal.

"You have to learn to create healthy space and time," she says. "Not too much,but you have to know what is just right. I'm not a believer of 'don't let thesun go down until you've patched up' or 'don't go to bed early.' It's not true.For me, there are some things that take time. But in the essence, I think whatit means is, don't let it take too long until you talk and resolve, kasi thereis a point that might be too late, e. Then it becomes a bigger problem. So justallow yourself to cool off."


ADVERTISEMENT - CONTINUE READING BELOW
Differentexperiences with her husband have helped Dawn reach a new level of maturity, and she considers problems as tests that toughen their relationship. She tellsGH, "there really comes a point in your partnership that you're tested. Maybeit had something to do with the fact that we were trying so hard to getpregnant, and it was difficult...and I'm so glad we got over that. It took a lotof praying, a lot of counseling from people we trust, like friends andrelatives."
Keepinga relationship strong requires love and hard work. Fortunately for Dawn and Anton, their love have becomestronger over the years. "There's now a deeper appreciation for each other anda deeper understanding of each other. It's like you discover a new way to loveeach other. I love him now so differently from the way I used to when westarted. Now, it's something more tangible," she observes.
GoodHousekeeping is nowavailable in all leading bookstores and magazine stands nationwide at only P100per copy.