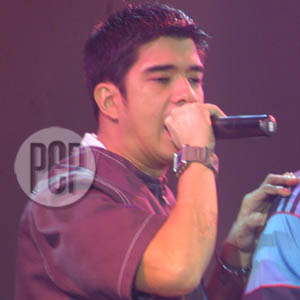 IMAGE 0
---
PEP (PhilippineEntertainment Portal) received information earlier today, August 13, that rapper-songwriterFrancis Magalona has been diagnosed with leukemia and needs the help ofblood donors.
Pupil band managerand Francis's good friend Day Cabuhat told PEP in a phone interview that any blood type and platelets will be accepted. [Subject to medical requirements, of course.]
"Donations may bemade at the lower ground level of The Medical City in the name of FrancisMagalona," relayed Day.
The Medical City islocated along Ortigas Avenue in Pasig City.
Friends andrelatives organized a blood donation drive to help the popular singer's cause.They're also asking friends from the media to spread the word regardingFrancis's condition to encourage people to turn up and donate blood.
MASTER RAPPER. He is the son of the late matinee idol of the '5os Pancho Magalona and actress Tita Duran.Francis created his own mark in the entertainment industry as a rapper-performerwhen he released his debut album, Yo!back in 1990. The record popularized the nationalistic rap hit song "Mga Kababayan," which in effectintroduced Pinoy- style rap to the mainstream music industry.
The '90s bandexplosion failed to deter Francis's popularity and significance in the musicscene, as proven by the number of hit albums and good singles he churned outsince Yo! He even collaborated withother artists and most of the time experimented with various sounds and genres to keep abreast of music trends.
Some of hismemorable songs include "Mga Praning," "Meron Akong Ano," "Man From Manila,""Cold Summer Nights," "Bahay Yugyugan," "Ito ang Gusto Ko," "Girl Be Mine," and"Kaleidoscope World."
Aside from singingand writing songs, Francis also plunged into hosting. He served first as a VJfor both MTV Philippines and Channel V before joining the country's longestrunning noontime show Eat Bulaga! asone of the regulars.
ADVERTISEMENT - CONTINUE READING BELOW
Francis was alsotapped as one of the judges, along with music maestro Ryan Cayabyab and PilitaCorrales, for Philippine Idol's maidenseason in 2006, which aired on ABC-5.
He also venturedinto photography and music-video directing, megging videos for artists such asSponge Cola, Join the Club, Gloc 9, Shamrock, Join The Club, Pikaso, DeathThreat, and Pupil.
Francis is marriedto Pia Arroyo and they have eight children: Unna,Nicolo, Francis Jr., Isabella, Elmo, Arkin, Clara and young actress MaxeneMagalona.