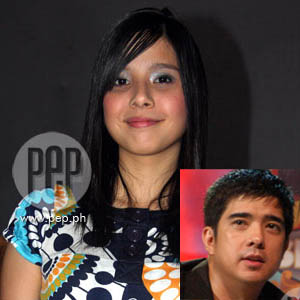 IMAGE 0
---
Support and understanding is what masterrapper and Eat Bulaga co-host FrancisMagalona needs right now and that is what daughter Maxene needs as well. Sincethe announcement of Francis M's condition in Eat Bulaga!, rumors began circulating that the rapper was alreadyweak and bedridden, prompting Maxene to react and speak her mind about theissue.
"Contrary to reports na sinasabi na veryweak already, nakaratay na, e, that's not true," Maxene told Startalk. "At first, siyempre, I wasdevastated and I kept crying. I'm still sad about it, I won't deny that. ButI'm keeping it together kasi siyempre I have my work and I need to be strongfor my family and my dad."
"Actually, my very first visit to thehospital, my dad was at the ICU and okey naman kami. Walang problema and he isvery, very strong and very happy. He's very strong right now and he ispreparing for his treatment. Mag-i-start ang treatment niya very soon, so, he'sexcited about it and we're all excited about it. And, hindi totoo yung reportsna he's very weak already and kalbo na daw siya. It's not true. He is very muchin shape."
SUPPORTFROM THE PUBLIC. For Maxene, support from friendsand fans of her dad makes them stronger.
"Actually, I want to take thisopportunity to thank everyone who went to Medical City blood bank who donatedblood and platelets," a grateful Maxene said. "When the news broke out, angdami talagang pumunta, even the people we don't know. To the Eat Bulaga! family, thank you so much.Ang dami talagang natutulong ng EB safamily namin. Thank you so much for being there and supporting my dad 100percent."
"Naiiyak siya," Maxene said. "Lalo na yungnakita niya yung mga signs [of support] from the audience. Actually, he wascrying tears of joy. He was happy to see that all the people were so supportiveand they were staying strong for him. So talagang natuwa kami."
ADVERTISEMENT - CONTINUE READING BELOW
MESSAGETO DAD. "Papa, I love you very much and I knowthat you are a strong person. Idol ka ng lahat ng tao that's why everyone'slooking up to you. This is just a challenge na alam ko na malalampasan mo dinkasi you are a strong person. Kaya natin ito and I know na kaya mo 'yan. Don'tforget na I'm here and all of us are here behind you and we're just gonna stayhere. I love you so much."