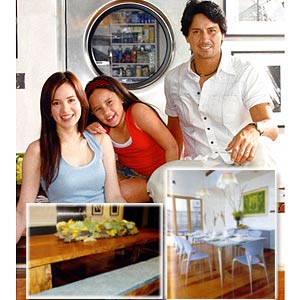 IMAGE 0
---
When Richard Gomez was just starting out in showbiz, one of the goals he set for himself was to have his own house. And at the time he completed building his dream house, he also found his dream girl.
In the September issue of YES! magazine, Richard narrates: "Basta my major consideration was, number one if I was readyto settle in and be with a wife. 'Causeit's very important that you're ready emotionally, di ba? I was naman. Second, am I financially stable? Do I have a house where I can live with my wife? Tamang-tama, I was building this house andit was almost done. Perfect timinglahat."
Richard is referring to his 900-square-meter house-and-lotin Greenhills, San Juan, and the "wife" is none other than the lovely Lucy Torres.
When it wasfeatured in YES! September 2001 issue, the house adapted a minimaliststyle that clearly described the actor's personality.
"Siguro, just like my house, I am a very open person. Di ba, wala naman akong tinatago? Siguro that shows sa personality din ngbahay. Everything's open," the actor explains.
But after seven years, the house sheds of its minimalist theme. And Richard attributes the beautiful changes to his wife of tenyears.
From Ormoc city, Lucy moved to Manila in 1998 to start a newlife with her husband. During her firstfew months as Mrs. Gomez, while she was not yet active in television, Lucyspent most of her time arranging Richard's bachelor's stuff.
Aside from this, The Sweet Life host, who is aself-confessed OC (obsessive-compulsive), took charge of keeping their homeorganized. The sports gears thatRichard uses, the books, painting, photos they have collected over theyears, including the belongings of their only daughter Juliana—all areneatly organized in shelves, rooms, and boxes.
ADVERTISEMENT - CONTINUE READING BELOW
Richard says, "Lucy liked the house the way itwas, kaya binigyan lang niya ng mga finishing touches."
A NORMAL COUPLE. Also in this issue, the famous celeb couple describe their marriage, including their petty differences. For example, if Richard is the type of person who gives away old things,Lucy loves to keep them especially those with sentimental value.
The former matinee idol says, "Ako kasi, if it's no use anymore, tapon na, o pag luma na, ipamigay. Siya naman, 'Honey, baka puwede pang itago o ipagawa."
Lucy, on the other hand, defends that she rarely throwsanything away. "Unless it's talaganguseless na at hindi na ma-fix. If it'ssomething that I can fix in this house, I have my mighty bond. Ayusin ko pa, especially pag may sentimentalvalue."
When it comes to marital problems, Richard andLucy say they also argue but they don't fight.
"Hindi kami ma-drama," describes Lucy. "We don't have 'yong mga arguments thatwould lead na mag-aalsa balutan ka, 'Uuwi ako ng Ormoc!' Siya, aalissiya—magda-drive."
When this happens, it's Richard who always makesthe first move to reconcile with her. "Kasi,siya naman palagi ang may kasalanan," says Lucy. "But he's very sweet when he wants to be sweet."
Lucy and Richard also reminisced their love story, and talked about raising their unica hija, whom Richarddescribes as "rakista."
Read these and more in
YES!
September 2008issue. Grab a copy now!