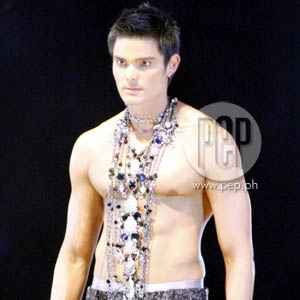 IMAGE 0
---
For the past several weeks, Charlene Sakoda, the executiveproducer of E! Entertainment Television in Los Angeles, California has beenexchanging notes and calls to the manager of one of the hottest popularactors in the Philippines today—Dingdong Dantes. E! Entertainment is one of thelargest and most popular networks in Hollywood andthe most subscribed network around the world, which is available to 88 millionsubscribers in the U.S. and 600 million homes internationally.
E! Entertainment has decided to put Dingdong on their listof 25 Sexiest Men of the World.
The first e-mail sent by E! Entertainment, wherein theyadvised that "the actor Dingdong Dantes of the Philippines" might be includedin their selection of 25 Sexiest Men, was first addressed to UnitedLaboratories through Dingdong's Medicol Ibuprofen TV commercial. Later on, they did research on Dingdong's profile andwork.
E! Entertainment's request was forwarded by Unilab toDingdong's manager, Perry Lansigan. After that, e-mail exchanges flowed between Perry and E! Eventually, E! Entertainment decided to have Dingdong as the only Filipinocelebrity to be included on their list. He will be featured in one of thespecial segments of E! through an interview.
ADVERTISEMENT - CONTINUE READING BELOW
Also stated in E!'s request letter is their intention tohave footages and photos of Dingdong, his soap opera, movies, the Bench denim and underwear fashionshow, and the Cosmo event.
Although E! also eyed anotherFilipino talent, the network people all rooted for Dingdong. The final choicecame from the president of E! Entertainment, who personally chose Dingdong onthe list.
Part of the letter stated: "I can assure you that we are only looking to glorify Dingdong Dantes andwill only mention him and your footage in a positive light. The show isscheduled to air in the 3rd or 4th quarter of 2008. We do not have a morespecific time frame as of yet."
Aside from Dingdong, the list also includes celebrities fromother countries who are also considered sexy and popular on their chosen fieldas actors and sportsmen.
Here is the letter sent by Brian N. Potter, E!Entertainment's Rights & Clearances Supervisor, to Perry Lansigan datedAugust 18, 2008 and with E!'s letterhead:
ADVERTISEMENT - CONTINUE READING BELOW
Dear Perry,
We are currentlyproducing a television program called "Sexiest: Men of the World" (the"Production") where we will feature 25 of the hottest males in the world. Aspart of the Production, we have decided to include Dingdong Dantes as one ofthe 25 Sexiest Men of the World! The list is still being generated but we cantell you as of the date of this letter that we have selected the followingmales:
Gilles Marini (France)
Kostas Martakhs(Greece)
Michael Lewis (Israel)
Dan Carter (New Zealand)
David Beckham (UK)
Here is the seriesdescription: Young, blonde celebutantes may be what you're used to seeing onnews stands, but when it comes to appeasing the insatiable appetite of theworld, you've got to serve up the hottest most delectable dishes imaginable! Wecover the entire globe searching for the sexiest beach-hard bodies and thedelicious divas that can melt you with their voices and crush you with theirsizzling sex appeal! We'll also discuss studs that can capture your attention ina flash, pin-ups with deadly curves, famous footballers with all the rightmoves and their wives and girlfriends who bask in beauty.
ADVERTISEMENT - CONTINUE READING BELOW
In a quick research made by PEP (Philippine Entertainment Portal), we found out that Gilles Marini is an actor who has appeared on the Sex And The City movie and several TV shows; Michael Lewis is an actor-model; Dan Carter is a rugby player; and, of course, David Beckham is a very popular soccer player. We haven't found anything yet on Kostas Martakhs though. But indeed, Dingdong is in a very hot company.
With this new development on Dingdong's alreadycolorful showbiz career, the young actor has indeed conquered the world.