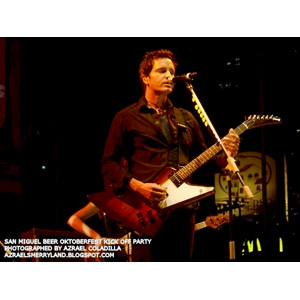 IMAGE 0
---
The raging ruckus right smack in the middle ofOrtigas—where the monumental San Miguel Corporation building is situated—isenough to signal to everyone that Oktoberfest has finally arrived. This time bigger, better and longer.
The event premises were surrounded with metalplanks securing the entire area.Outside, large groups of people waited both at the entrance and exit areashoping to join the longest-ever beer drinking bar recorded—603 meters, triplinglast year's approximately 300-meter line.
Believe it or not, it was only 8:00 p.m. and theparty was just starting.
15,000 SMB-lovers were present at San Miguel Oktoberfest2008 Siento Bente (120 days) kick-off party, all ready for a night of pure inebriation. It was the perfect Friday for enjoying ice coldbeer while watching some of the country's most-talented bands' live performance.
The area was divided into four stages: The AllGirls Stage, The Reggae Stage, The Pop Stage, and The Main Stage.
Derek Ramsay, alongside Monica, hosted the program at the main stage, where Rivermaya played during a spectacular 15-minute fireworksdisplay. Other bands such as Taken By Cars, TheBloomfields, and Out of Body Special also performed.
Star sightings included sexy comedienne MaureenLarrazabal strutting her tight frame in front of the GMA-7 crew. When the camerawasn't rolling, Maureen graciously posed for her admirers across the VIP fence.
Atop a highly elevated plank were Maverick andAriel with huge Kapuso pins on their chests.They were also delivering a blow by blow account of the Oktoberfest.
Finally, around 15 minutes after midnight, ThirdEye Blind—the most-awaited band that night moved to the stage to play theirfirst song, "Losing a Whole Year."
"We've come a long way to play just for you solet's all have fun tonight!" band frontman, Stephen Jenkins addressed the veryexcited crowd. "You know, I haverelatives from here so you guys don't really feel different from me," he continued before moving on to their next song.
ADVERTISEMENT - CONTINUE READING BELOW
Third eye blind played a total of 13 songs thatnight including their greatest hits from their self-titled album released wayback in 1997—"Graduate," "Jumper," and "How's It Going to Be" and billboard chart-topper, "Semi-CharmedLife." They also played acouple of new tracks from their upcoming album Ursa Major, which is currently under completion.
Meanwhile, on the other stages, about 40 other Pinoybands performed for the über energetic crowd despite the continuousbeer-chugging, promising what seems to be the most eventful Oktoberfest yet.