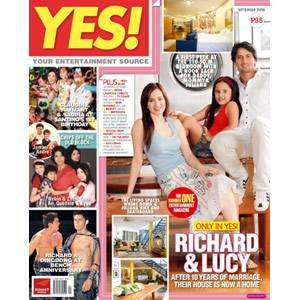 IMAGE 0
---
Make your favorite stars shine evenbrighter!
This September, YES!, Your Entertainment Source, launches its 2008Readers' Choice Awards, an annual entertainment poll conducted by YES! magazineto find out which celebrities you love the most.
Keep your cellphones close and getready to go online to vote for your favorite stars. This year's categoriesinclude Most Riveting Celebrity Story,Celebrity Home of the Year, Bravo Award, Wedding of the Year, Scene Stealer ofthe Year, Cover of the Year, Most Popular Love Team, Young Male Superstar,Young Female Superstar, Next Big Male Star and Next Big Female Star.
Every voter also gets the chance to wincash prizes weekly! Voting period is from September 1 to December 31, 2008. Tofind out how to vote and get a list of categories and nominees, grab your copyof the September issue of YES! magazine for only P95 per copy.